A Gentleman's Guide to Engagement Party Style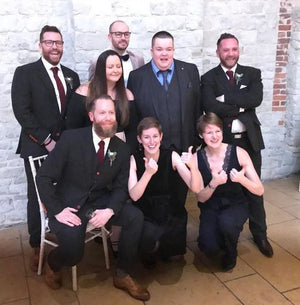 Congratulations –– you're engaged! And while we're sure you're looking forward to the big day, you can't forget about all the events in the lead-up to your wedding. And no, we don't mean the bachelor party!
Today's discussion is all about your engagement party. It's a night of fun and frivolity, a chance to celebrate your relationship in a less formal way than your wedding may be. 
Of course, you want to look dapper on your wedding day, but your engagement party outfit is just as important! You (and your fiancée, of course) are going to be the centre of attention: you'll want to feel good.
Let's take a look at some excellent engagement party ideas, and how to dress for each one. 
Cocktail Party
This isn't quite Black Tie, but definitely more dressy than a daytime picnic. For this sort of event, a pair of dress pants, a blazer, and a shirt – with or without a tie – would definitely be appropriate.
Mix and match your fabrics if you're after a more striking look. For example, a well-fitting tweed jacket, paired with black or brown pants, is always a reliable option. Tweed is so versatile: it looks great with a buttoned-up shirt and tie, while also suiting a crisp, unbuttoned shirt. 
Check out our range of tweed jackets to get your outfit started!
In The Garden
Gardens make for excellent engagement party locales, particularly if they're held in the spring. Celebrate the warmer weather and your surroundings by injecting some colour into your wardrobe choice. 
Avoid black and dark suits –– if you're not afraid of making a statement go for a powder blue or light pink suit. Otherwise, a lighter neutral-coloured jacket and pants will look wonderful with a pastel tie. 
At The Pub
A pub celebration calls for a more relaxed and casual outfit. We'd still recommend dress pants (please avoid denim!) but you can eschew the jacket in favour of a cardigan or smart sweater. A collared shirt is still a good idea – it's not just a regular Sunday pub visit, after all!
In summer, an open shirt and linen slacks will be perfect, especially if you'll be outdoors in the beer garden. 
Matching outfits
If you and your partner want to be the absolute centre of attention, then matching - or at least complimentary - outfits are the way to go. Decide together on a colour, pattern, or fabric that most reflects your personality. 
Just be sure to stick to the theme you've stipulated for guests. It's no fun to be in black tie when everyone else is dressed casually – and vice versa!
By The Beach
Of course, a coastal party does always feel a little more low-key and relaxed, which you can embrace with your outfit choice.
Opt for a suit in light colours – white, cream, or even light tan are optimal choices. For fabric, linen is a safe bet, especially in the warmer months. Leave the dress shoes in your closet and go with a nice pair of boat shoes. Wingtips will also work if you're having an evening party. 
The main thing here is to be comfortable! Save the formal suit for your wedding day and lean into the beachy energy. 
Speaking of wedding suits, it's almost time to decide on the outfit for your Big Day!
Yes, the engagement party and rehearsal dinner are important –– but nothing comes close to the joy of picking out a suit for your wedding day. You're going to be looking at it in photos forever! 
Tweedmaker has long been supplying gentlemen with the perfect suit for their wedding day. Whether you're tying the knot on a city rooftop, a chapel in your hometown, or on a farm property, tweed will always be your best bet. 
Tweedmaker is your place to find classy, accessible style, so you can show up at your best when it matters most. And nothing matters more than your wedding day!
Browse our range of tweed suits, and feel free to get in touch with any questions.