Best Timeless Tweed Looks for Men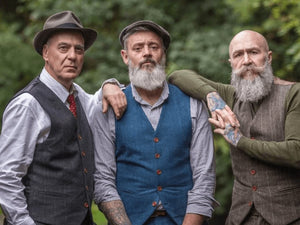 Since tweed was first invented in the 18th century, it has become one of the staple fabrics for both men's and women's fashion. Throughout the years, the popularity of the fabric rose as it was created in many different patterns and was used for various garments and accessories. To this day, season after season, tweed remains to be a popular fabric. What's particularly great about tweed is the fact that it's classic and timeless, yet a fabric that can be reinvented and designed to fit modern times and current fashion.
Of course, when one thinks of tweed fashion, it's easy to assume that the first image that comes to mind is country style. While tweed is naturally closely associated to its Scottish country roots, it has significant presence in global fashion.
Decades past didn't have street style as we know it today and endless fashion images on social media as reference. However, some of the most stylish tweed looks have been immortalized in many of the best movies that have transcended generations and in the outfits worn by many of the style icons that remain influential to this day.
Men of all generations cannot go wrong with the timeless tweed suit. From Prince Albert, who designed the Balmoral tweed and the then Prince of Wales, Edward VII who popularized his namesake Prince of Wales pattern, to Sean Connery as James Bond, Warren Beatty's Clyde Borrow from Bonnie and Clyde, and Cilian Murphy as Peak Blinder's Thomas Shelby, all the men have donned their own stylish tweed suit. Wearing a coordinating tweed suit jacket and trousers is a stylish look no matter what age you are and regardless of what current fashion trends are. One can even wear a three-piece suit, adding a tweed vest or waist coat to complete the look.
For a modern take on tweed that still remains timeless, you need not look any further than some of today's most stylish men, including David Beckham, David Gandy, Ryan Reynolds and Ryan Gosling, just to name a few. The well-photographed men have all taken the quintessential tweed look and have made it their own, looking both sharp and suave while doing so. You too can wear a double or single breasted tweed suit and trousers with a coordinating necktie and even a waistcoat, or wear a plaid patterned tweed suit with a crisp white dress shirt sans necktie for a more laidback look. You can even put on your tweed suit or sport jacket and pair it with casual chinos or jeans, along with sneakers or boots for a casual look.
There are countless options for men to wear their own tweed look that is both simultaneously timeless and modern. Regardless of what style and print you choose, the most important thing to remember is to wear it confidently.