Guide to Wearing Tweed for Wedding Guests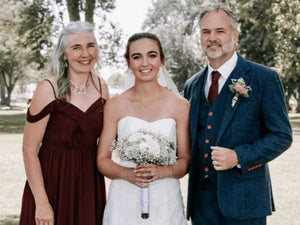 These days, with the current global situation and varying national and international regulations, gatherings are severely restricted, and weddings are no exception. If you're currently invited to be a guest at a wedding, it only means one thing. With the limited number of individuals allowed to attend, you are incredibly special and close to the soon to be wedded couple. You've made the cut into their tight guest list. Keeping that in mind, you want to make sure that you attend while respectfully and appropriately honoring their special day. This, of course, also includes considering the appropriate attire to wear based on the dress code they've requested for their guests.
With most weddings and receptions having to be located in open spaces, outdoor, garden and countryside weddings are more popular than ever. Unless the wedding invitation specifically indicates black tie or white tie, you have more freedom to choose an appropriate outfit to wear.
Now that the Fall season is upon us, there's no better time to attend a wedding wearing a stylish Tweed outfit. Not only will the fabric keep you appropriately warm as the weather continues to cool down, but there's arguably no fabric that's more fitting for those outdoor, countryside celebrations.
When attending a wedding that's more relaxed and informal, a pair of tweed Trousers, a crisp dress shirt and leather shoes is an easy yet stylish outfit to wear. You can choose either black, grey, navy or even brown trousers, all of which look good in almost any patterned tweed fabric. However, if the wedding calls for a suit, it's best to wear a Tweed suit and trousers with a coordinating necktie. You can wear a blue herringbone Tweed suit, with a white dress shirt and a burgundy tie to complete the look. If you prefer an even more eye-catching outfit, why not go for a plaid or a Prince of Wales patterned Tweed suit that will stand out from the rest of the classic, plain suits.
For an even more formal wedding celebration, it's best to stick to darker colored suits. Put on a black or a dark grey Tweed suit with a solid colored button down shirt, a sleek necktie and black leather shoes. You can even go for a three-piece look and wear a vest with your suit. For an extra stylish effect, add a chic pocket square to complete your wedding attire.
Whatever you decide to wear, the most important thing is that it's appropriate for the occasion and the type of wedding celebration. You don't want your outfit to attract unwanted attention or worse, overshadow the bride and groom's big day. The newlyweds will surely appreciate all your effort and the fact that with everything going on in our world, you're able to celebrate with them on what is surely one of the most important days of their lives.