Head-to-toe styling tips for a brown tweed suit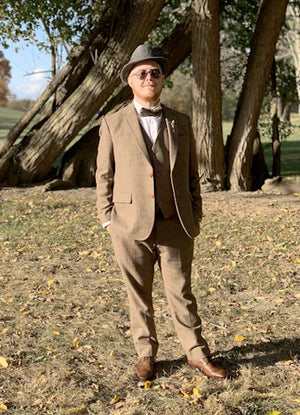 If you're seeking a sojourn away from the usual grey, black and blue suits, then you should consider adding a brown tweed suit to your wardrobe. 
When you picture a tweed jacket, the classic brown shade is most likely to pop up in your mind. It's a timeless piece that's a staple for well-dressed gentlemen around the world. 
Though the three-piece brown tweed suit withstands the continuous cycle of fashion trends, brown suits in general are becoming increasingly popular, meaning there's never been a better time to invest. 
When styled correctly, the brown tweed suit can be worn to a whole range of occasions, from weddings and birthdays to a casual tipple with the boys. 
Here are our top tips for gentlemen everywhere, on how to style a brown tweed suit.
How to style a brown tweed suit (informal)
The best part about having a three-piece suit is that you have not one, not two, but three separate items which you can style individually. And when you're heading to a casual or informal event, it's best to break up your brown tweed suit and wear one piece at a time. 
Slip on your light-brown tweed blazer along with a pair of jeans, a button-down shirt, and a smart pair of trainers for an informal look that doesn't compromise on style. 
When the dress code calls for smart-casual, swap out the jeans for a pair of chinos to avoid losing social status.
How to style a brown tweed suit (formal)
When it's time to get dressed up, your full three-piece brown tweed suit simply must make an appearance. 
Pair it with a pressed white dress shirt for the ultimate formal look, along with some earth-toned accessories. Green, brown, blue, and mustard-yellow all look dashing with brown tweed, though it's important to go for deeper, darker tones when dressing formally. 
A pair of deep-brown leather shoes will complement your formal brown tweed suit very nicely. 
What colour shirts go with a brown tweed suit?
You may not think that brown tweed would go with a lot of colours, but alas, you would be mistaken.
White shirts go with everything and your brown tweed suit is no exception. As we mentioned above, if you're attending a formal event then it's best to stick with white. But the colour options don't stop there. 
Light blue shirts pair excellently with brown tweed. For darker tweed, you can go for darker, navy blue shirts – which also work better for more formal events. 
Brown and pink is a classic colour combination which can be applied to tweed. Wear these colours together for a bolder, more modern aesthetic. 
What colour shoes go with a brown tweed suit?
Your shoe choice will depend largely on the colour shirt and accessories that you've gone for. It's always a good idea to match your shoes to your tie to achieve a polished and refined look. 
So if you're wearing a white shirt and black tie, pick out some elegant black brogues or Oxford shoes. 
If you went down the route of earthy or pinkish colours, then brown or burgundy shoes will complement the ensemble well.
Best tips for styling a brown tweed suit
If it's a brown-tweed kind of day, then follow these tips to ensure that you're looking your best:
Dress down your brown tweed suit by wearing the suit jacket separately with a pair of jeans or chinos. 

For more formal occasions, don the whole three-piece suit. 

Opt for darker, earthy tones when dressing formally. 

Wear a white shirt for a more refined look, or experiment with blue or pink on more relaxed occasions. 

Black shoes are best for important events, though brown and burgundy are also handsome shoe pairings. 

Ensure that your brown tweed suit is well-fitted to really pull off that gentlemanly style. 
Looking for a premium quality brown tweed suit to add to your collection? Tweedmaker's range of tweed suits are the best around. Shop your perfect-fitted tweed suit here.