Head-to-toe styling tips for a grey tweed suit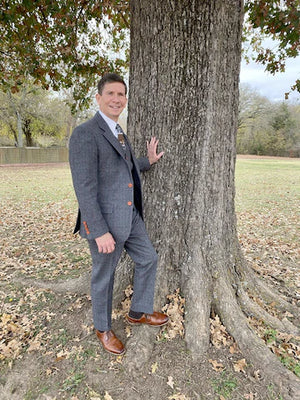 The grey tweed suit is the most versatile item in a gentleman's wardrobe. Whether you're attending a sporting event, a wedding, or even an important business meeting, grey tweed is often the go-to. 
When an occasion calls for a more formal dress code, wearing a full three-piece suit with a matching grey waistcoat brings a more refined air to the ensemble. On the other hand, it's perfectly possible to dress your suit down for more laid-back affairs. 
With a vast number of styling options for grey tweed, one might be forgiven for thinking that you could wear simply anything with your suit. Though if you wish to exude a truly sophisticated style, then carefully planning your look pays off. 
Here is your guide to styling the transcendent grey tweed suit. 
What shoes do you wear with a grey tweed suit?
Due to the neutral nature of the colour grey, you have a lot of freedom when it comes to shoe pairings. Tan, brown, burgundy and black dress shoes are all good options. 
If the dress code calls for formal attire, then your safest bet is to opt for some black leather brogues. If you have the room to be a little more casual, then burgundy is an excellent choice to pair with the grey.
What shirt do you wear with a grey tweed suit?
As with most suit colours, you cannot go wrong with a crisp white shirt. But if you're looking to venture beyond the classic white dress shirt, then the time to do it is when you're wearing grey. 
If you'd like to add some colour without going too bold, then blue is the shirt to go for. You can play around with different shades to add even more looks into your grey tweed repertoire. 
If you want to make a statement, then why not try a pink or red shirt? Paler pinks help to keep the look more casual while ramping up the colour intensity will create a bolder aesthetic. 
Pairing your grey tweed with a black shirt is an automatic win. It's both simple and powerful, and looks great at social occasions. 
What tie do you wear with a grey tweed suit?
The tie is an important accessory to consider when styling your grey tweed suit, as it quite literally ties the whole look together.
First and foremost, you'll want to think about the shade of your grey suit. If you're wearing a light grey or mid-grey tweed, then you've more room to experiment with brighter and bolder tie colours and patterns.
If your tweed is of a darker grey, then it would make sense to stick to darker ties with a more subtle pattern or even no pattern at all. 
How to wear grey tweed for a casual look
While most would reserve their tweed suits for the most dignified occasions, it's possible to style your suit for more relaxed get-togethers too. 
The beauty of a three-piece suit is the way in which you can mix and match each piece to be worn in countless other ways. 
Pairing your grey tweed suit jacket with a pair of blue jeans, white, simple trainers and a white shirt creates a polished look ideal for grabbing drinks in the city. On those warmer days, you could even leave the blazer behind and head out just in your tweed trousers and a shirt. Undo the top few buttons to dial down the look even more. 
Best tips for wearing grey tweed
Here are the top things to remember when styling a grey tweed suit:
For more casual occasions, you can go for lighter, brighter shirts and accessories.

You can wear tan, brown, burgundy or black shoes, but if it's a formal event then go for black.

A white shirt is standard, but you could also experiment with blue, pink, black, or even red. 

Wear a tie that complements both the shirt and grey tweed. 

Make sure your suit is custom fitted to your frame. 
If you're looking for a perfectly-fitted grey tweed suit, then look no further than Tweedmaker. We're known by tweed lovers around the world for the impeccable quality and fit of our tweed suits. Find your next tweed suit here.