How to Add a New Year's Twist to Your Tweed Suit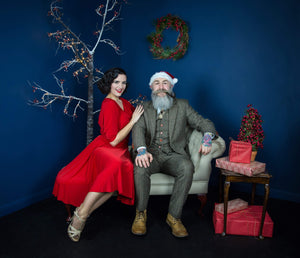 The New Year is right around the corner and what could be better than welcoming 2022 in a dashing suit? A tweed suit, of course! 
The best thing about tweed suits is their versatility. You can find them in solid colours or patterns, and the amount of different shirt styles they can be paired with is nearly endless. Plus their overall texture adds a certain level of sophistication, which makes them a great option for all occasions.
Let's get you in the spirit 
Whether you wear tweed often or are finally thinking about trying it on for size, we're here to help you make your tweed suit pop this coming New Years' eve.
Try one or all of the following ideas to add the perfect party twist to your tweed suit and celebrate the New Year in style.
Choose an Unexpected Colour
Earthy, brown tones are among the most common options for tweed suit wearers. However, they're not the only option out there ー and you are no regular gentleman. Go for the bold by choosing a lighter blue, forest green or even a pale red tweed suit for your upcoming New Years' celebration. 
Another great thing about tweed suits is that no matter the colour, you can wear them all year round!
Pair it With a Bold Shirt 
As we mentioned earlier, your tweed suit can go with so many different types of shirts that you'll never run out of options.
Going for the classy black or dark grey tweed suit? Pair it with a nice shiny silver button-down underneath. Attending a more casual affair? A simple yet refined black round-neck shirt will look stunning with an open navy tweed jacket. 
Do not fear the creative. After all, it's your personal style that will carry your tweed suit into the new year and for many more to come.
Keep the Waistcoat Optional
Most often, tweed suits come as a three-piece which includes a waistcoat. But, they aren't mandatory, and whether or not you choose to wear one will really depend on the type of shirt you'll be wearing underneath.
You can also spice things up by wearing a different colour vest from the rest of the tweed suit, such as grey or an earth tone under navy blue. Pair a solid colour jacket with a patterned vest, or two different colours of the same pattern.
Add a Glitzy Pocket Square
An eye-catching pocket square can go a long way in jazzing up your tweed suit. Whether it's solid and shiny, multi-coloured, or patterned, you really can't go wrong with the extra flair it adds to the outfit.
Keep in mind that you don't have to match the colour of your pocket square to your tie, but ensuring the colours do complement each other will go a long way.
Don't Be Shy About the Bowtie
Is there a better night of the year to bring out the bowtie? Whether you wear a bowtie or regular tie, make sure you choose a colour or pattern that will stand out against the rest of your tweed suit's colouring.
For example, if you're wearing black, pair it with silver or gold. If your tweed suit is a solid colour, choose a bright, patterned tie that'll catch the light. 
Try Some Unique Socks
Socks are where you can really have some fun with your tweed suit. You can keep it simple with a black pair of dress socks or go completely rogue with a fun pattern or scheme.
Sometimes, all it takes is a little pop of colour to complete your look. As long as the colour, pattern, or scheme of your socks flow with the overall ensemble ー and your personality ー you're good to go.
Tweed Is Always in Style
The tweed suit is a timeless closet staple that will always make a statement, regardless of the occasion. 
Here at TweedMaker, we tailor the clothes but it's up to the gentleman to create his own style. Of course, we can help with that too ー take a look at TweedMaker's range of tweed suits and stylish accessories that'll have you looking dapper than ever this New Year when the clock strikes midnight.