How to Care for Your Linen Suit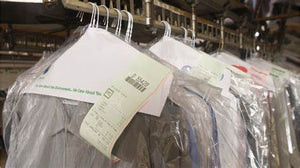 A linen suit is an absolute essential for any gentleman's summer wardrobe. It holds all the sophistication and charm of a classic suit, but its breathability makes it a perfect choice for warmer weather. 
Though linen is a durable material, it can become worn, faded, and prone to fraying if not cared for properly. The purpose of your linen ensemble is to keep you looking and feeling cool during the hotter weather, so a shabby suit simply won't do! 
Fear not. We're here to help prevent you from getting into such a pickle. We've consulted the linen suit experts for their advice on protecting and maintaining a linen suit. 
4 ways to care for your linen suit
The good news is that linen is actually relatively easy to care for — once you've got the hang of it! 
Washing your linen suit
Debating whether or not to take your linen suit to the dry cleaners? You may be better off doing so.
Dry cleaning your linen suit is better than putting it in the washing machine. That's because the dry cleaners will use a solvent to clean your clothes, rather than lots of water. This gentler process avoids disrupting the weave's structural integrity, better protecting your suit. 
But if you'd rather wash your suit at home, your best bet is to wash it on a lukewarm or cold cycle, using only a mild detergent. Linen is known to crease quite easily, so if you have the option, put it on a gentler wash cycle to avoid wrinkling.
For a truly deep clean, and long-lasting quality, the suit connoisseurs here at Tweedmaker only recommend dry cleaning. 
Drying a linen suit
Having spent your time selecting the perfect linen suit and having it tailored to fit your frame, the last thing you'd want is for it to shrink. Shrinkage usually occurs in high heat, so do avoid using the dryer. 
You'll be better off hanging your suit on the line or an indoor airer. Linen is a naturally moisture-wicking fabric that quickly moves moisture to the fabric's outer surface. Not only is this good for those scorching summer days, but it means that your linen will dry in no time. 
Storing your linen suit
Before you store your linen suit away, it's a good idea to give it a spot clean. A fresh strain that may not yet seem too visible may oxidise over time and fix itself to the garment, making it far more tricky to remove further down the line. 
Keep your linen suit in a cool and dry storage area. Like other suit styles, it's best to hang linen up to avoid creasing. Use a hanger that fully supports the linen jacket by the shoulders, with enough space to easily take it out of the wardrobe when the right occasion comes along.
Another handy tip that will help protect your suit's condition is to place mothballs, lavender, or cedar chips near your suit when in storage. This helps to prevent pesky little moths from damaging it.
How to get rid of creases in linen
If you've accidentally washed your linen suit on a rigorous cycle or stored it in a way that's created wrinkles, don't fret. We've got some tips to help get those creases out:
Dry cleaning
When you take your suit to the dry cleaners, they'll give it back to you wrinkle-free! 
Ironing
Many worry that ironing isn't an option for linen — but it is. Just be sure to go for the medium heat setting.
A pressing cloth can also help protect your suit from scorch marks and get you the best results.
Steaming
If you're unsure about ironing your linen suit, then steaming is always an option. If you have a clothes steamer, set it to the 'low heat' setting and steam away! 
If not, you could hang your suit up in the bathroom while you're taking a warm shower. The steam helps the creases fall out. 
Find your quality linen suit
Looking to purchase your first linen suit or fancy a new one to add to your summer wardrobe? The suit experts at Tweedmaker have just released our first range of premium linen suits. Take a look for yourself!