How To Dress For A Destination Wedding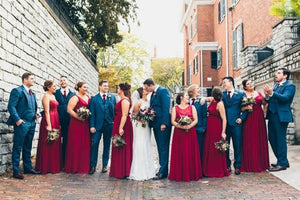 Summer wedding season is officially upon us, and destination weddings are in full swing, with brides and grooms increasingly choosing to tie the knot at breezy beaches, quaint olive groves, enchanting forests, and picturesque countrysides. 
With the promise of warmer weather and bright sunshine, you'll need to choose the right suit to keep you cool. And since destination weddings are often a relaxed, laid-back affair, you'll want to keep that in mind when choosing your outfit. 
Think classic, minimalist looks that stand out for their pure simplicity. 
Destination wedding style ideas
If you've got your destination wedding invites stacking up but nothing to wear, here are a few ideas to help you out.
Lighter suit colours
Destination weddings call for lighter suit shades. Steer away from darker colours such as navy, black, and dark grey, which are better suited for winter occasions. 
Instead, consider selecting a wedding suit in a soft or warm beige colour, a pale grey, or even a pastel blue or green. 
Lighter colours don't only look the part — they're also a practical option. Darker colours retain heat, so a pale colour will help keep you cool. 
Breathable fabrics
A lightweight suit is a must if you're attending a destination wedding in a warmer country or state. Breathable fabrics such as linen, linen-cotton blends, or cotton are ideal. 
Your best all-around option is linen. Not only is it more durable and lighter than cotton, but it's also moisture-wicking, meaning that it will draw any sweat away from the body to the surface of the fabric, allowing it to evaporate more easily. 
Bold blazers
Are you usually more of a bold dresser? Stay true to your style and don a bold blazer for your upcoming weddings. Solid, light shades work pretty well, as do light blue pinstripes or even summer tweeds. 
Chino trousers
If the wedding that you're attending is quite casual, you might prefer to pair your linen blazer with chinos. You could stick with a toned down, neutral colour or switch it up with brighter reds, greens, or blues. Match your chinos to your tie to complete your look. 
Waistcoats
Waistcoats will become your best friend at a summer wedding. They look dapper and allow you to take your suit jacket off without impairing your look. If the blazing sun gets to be too much, you can hang up your blazer, and your waistcoat will keep you looking sharp! 
Equally, as the evening draws in and the temperature cools off, you'll still have your suit jacket around to keep you warm. 
You could go for a cohesive three-piece suit with a matching waistcoat, or you may prefer to contrast the waistcoat with the rest of your suit for a more dynamic look. 
Braces
If you've ever wanted to try to integrate braces into your gentlemanly wardrobe, then a destination wedding is your opportunity. They may not be visible when you're wearing your suit jacket, but they'll have their time to shine when it comes off. 
Summer wedding suit inspiration
Now that you've got an idea of what you'll wear to your destination weddings this year, let's look at some inspiration. 
Beige linen suits
These gentlemen have nailed their destination wedding attire. Looking perfectly cool in their beige linen suits, with an optional waistcoat and complementary pale blue tie. We're sure that a matching linen jacket will be hanging somewhere not too far away. 
Pale blue linen three-piece suit
Pale blue linen is the perfect modern summer twist on a traditional three-piece suit, stylishly paired with a monochrome blue tie and pocket square. 
Looking for the perfect destination wedding suit?
Tweedmaker has recently released a range of exquisite linen suits, ideal for any pending destination weddings. Browse the collection here.