How to style a linen suit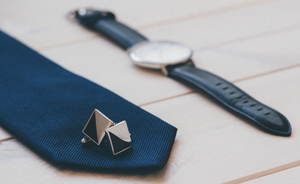 It got off to a slow start but spring is now most definitely here. And summer will be rolling along not far behind. So, in case your wardrobe has still to get the memo, it's time for a seasonal style update!
For the modern gent, warmer weather presents something of a conundrum. Should you stick loyally to your tweed suit throughout the summer months? Should you eschew your sense of style for a shorts and t-shirt combo? Or is there another, better way?
Linen suits allow you to dress exquisitely, whilst also ensuring you don't pass out from heat exhaustion. They are perennially popular, supremely stylish, and cool — in both senses of the word.
Ready to hit the new season in style? Then here are our tips for looking your very best in a linen suit.  
Tips for styling a linen suit
Presuming you already have a well-fitting linen suit in your preferred colour and with just the right amount of creasing. Here are the other elements you should add to your ensemble, plus some tips on how to style them.
The shirt
One of linen's top qualities is its versatility. But it usually pays to keep things casual. And you really can't go wrong with a standard poplin shirt in a colour that complements your suit. The crisp, tight-weave material provides a fitting contrast to the relaxed look and feel of linen.
But want to take your linen suit to the next level of casual dressing? Then opt for a linen shirt. This easy breezy, cohesive combination is a sound sartorial choice for weddings in tropical climes.
And if you really want to keep things as casual as possible, ditch the dress shirt and go for a t-shirt instead. This look works best with tees in a single colour that are, of course, beautifully pressed.
The shoes
Given the inherently relaxed feel of a linen suit, traditional lace-up shoes often end up looking a little heavy and cumbersome. This material calls for something that matches its cool and casual credentials.
Enter the loafer — a rightly popular choice. Loafers, worn without socks, look effortlessly stylish when paired with a linen suit.
But again, you can take your relaxed look further. Pair your linen suit with impeccably clean trainers (again, worn without socks), and you add another casual look to your spring/summer repertoire.  
The tie
When it comes to ties, you're looking for something that will enhance the linen fabric of your suit. Plain, silk ties tend to clash because the materials are so different. And because the plain colour makes this very obvious.
Pick a patterned tie and you avoid this problem. Similarly, a plain, textured tie — something hand-woven, a knit, or a cotton tie with a slub effect — will complement the texture of your linen suit to perfection.
For the ultimate laid-back look, leave the tie at home. Wear your shirt unbuttoned at the collar, add a patterned pocket square to tie everything together, and demonstrate your cool and collected style.   
Got the style. Just need the suit?
If you're still to procure a linen suit this spring, look no further.
Here at Tweedmaker, we aren't just tweed experts. We also specialise in hand-crafted linen three-piece suits, available in a range of colours and patterns.
So whether you have a summer wedding in the diary — or you simply want to up your style game this spring/summer season — we have the suit for you.
Take a look at our range of linen suits. Choose from custom or standard fitting and start the season in style.