How to Style Your Linen Suit this Summer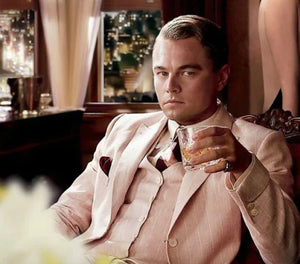 Suave, sophisticated and, if tailored correctly, suits can be a real marker of your individual style. 
But what happens when the weather warms up? 
The suit you already own might look the part, but it's not exactly the most practical or comfortable outfit in hot climates (we can't imagine comfortably hitting that winning croquet shot in a stiff three-piece). Equally, a smart polo and a pair of shorts might be comfortable and lightweight, but you might look slightly underdressed.
So what if we told you summer was the perfect time to don a different type of suit? No, not your birthday suit. But a linen suit — the perfect middleman between formal and stylish, and a brilliant all-year-round wardrobe staple. 
Timeless, classic but versatile enough to style up, a linen suit should be every style-conscious gent's go-to for suave summer style.
How to wear your linen suit
With a linen suit, the proof is in the pudding. Made using flax plant fibres this material is lightweight and breathable, enabling its wearer to stay relaxed and look pretty sweet in doing so. But, the trick? Don't over-egg the pudding. 
You don't need to add too much to make a linen suit look good — the material speaks for itself. 
But with that, comes a need to ensure the suit fits; nothing kills your style more than oversized linen trousers that look baggy rather than chic. The relaxed loose-fitting nature of linen makes it easy to be sized incorrectly, so head to our guide on suit fitting to ensure yours is tailored properly. 
Once you've found your perfect fit, it's all about the shirt. When matching a dress shirt to your linen suit, firstly consider its material. You want something lightweight for the heat but structured enough to hold your shape — and for that, a simple poplin shirt takes some beating. 
Alternatively, for less formal events, why not go for a plain white T-shirt? This relaxed style looks uber cool beneath a linen blazer and lets the suit do the talking. 
If the event is a wedding or another formal gathering, consider a three-piece linen suit. While Leo's Great Gatsby wardrobe shows up how sharp this can look, the jacket can also be taken off for a seamless day-to-night look. 

Source
Let's not forget the interchangeability of a linen suit — who says you have to wear both the blazer and trousers? Don linen pants with a smart polo or a linen blazer with your favourite dress shorts. The world is your oyster. 
Take a look at how Prince Harry styles his linen suits for all occasions.
How to accessorise your linen suit
Rule 101 of summer suit wearing: sunglasses are essential. Channel your inner Tom Cruise and rock a pair of Raybans, there's no cooler look for sunny outdoor events. 
Or, if shades aren't for you, opt for a pair of braces for a more alternative take on linen suit style. This adds some edge to your outfit and will breezily smarten up your attire — they're also a great way to add colour or pattern if your linen suit is plain. 
When it comes to shoes, go for a tan boat shoe with no-show pop socks for the ultimate relaxed gentlemanly get-up, or go for some simple sneakers if you're feeling bold. It's casual, but really, really cool. 

Source
Pairing a tie with a linen suit can get confusing. The sun is searing and the last thing you want is to feel constricted, but are you really going to defy the outfit demands of the groom? 
Due to linen's relaxed, loose-fitting style, slim-fitting block colour ties are the best way to go about it. Avoid wide, patterned ties as they will clash with the vibe and can look pretty sloppy. 
Pocket squares are another great way to dress up your suit and can look particularly striking if colour-matched correctly. Keep it consistent with linen or add extra pizazz with a classic silk square. 
If you're searching for the perfect linen suit for summer, Tweedmaker has a style for you. Head to our linen range here to explore and find your perfect fit.