How To Wear Tweed This Fall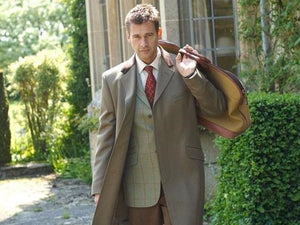 It's that time of year. The temperature is slowly dropping, there's a slight nip in the air and before we know it, the days will be much shorter. While we may not know what this Fall season will bring, especially considering how the year's been going, one thing is for sure. It's time to switch out the shorts and t-shirts for trousers, jumpers and jackets. We're not just talking about any pair of trousers or any jumper and jacket. Your Fall wardrobe simply isn't complete without Tweed in it.
Tweed is a classic fabric that you just can't go wrong with. However, classic doesn't mean dull or in any way lacking in style. In fact, the modern interpretations of Tweed are anything but boring.
If your personal style leans towards the more traditional, you can easily step into a pair of tweed trousers and a simple, classic button down shirt or even a plain t-shirt for any casual day out. If you're thinking of a more professional, work-appropriate outfit, a tweed suit and trousers will do just the trick. If you want to add more dimension to your look, don't hesitate to wear a three-piece tweed suit with a vest. There's a reason why the fabric and the tailored style are timeless.
However, if you're feeling fashion forward and want to make more of a style statement, today's latest Tweed styles are perfect for you. The classic fabric has received a modern update by some of today's biggest designers, proving that Tweed is anything but predictable and staid.
Of course, no Fall wardrobe is complete without a Tweed coat. It's not only a timeless piece that you can wear for years to come, making it a sound investment, but it's also one that will help you brave the cold Fall weather. If you'd prefer a more modern take on the traditional Tweed coat, go for an oversized fit. Designer Raf Simons' latest Fall collection features an oversized Tweed coat, with no lapels, worn over tweed trousers with an understated zipper detail, and with white shoes. It's the perfect balance of casual tailoring for the modern man.
Brands like Dolce & Gabbana, Giorgio Armani, and K-Way, on the other hand, went for a more utilitarian, laidback aesthetic. Think tweed cargo pants worn with a casual Henley shirt, a Tweed field jacket worn over an all-white outfit and boots, and a shawl collar coat paired with cropped jeans, loafers and a belt bag.
Whether you prefer to throw on a go-to classic look or are feeling more adventurous with a trendy ensemble, Tweed is a versatile fabric that can suit any style. Your Fall wardrobe won't be complete without at least a few Tweed garments and accessories to ensure you step out both in style and in comfort.