Mr Tweed's Modern Gentleman's Masterclass: Part II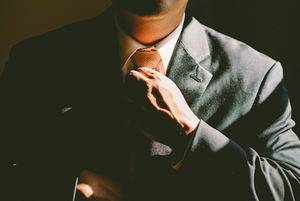 How do we recognise a fellow gentleman? 
Class? Of course. Refinement? Most certainly. Eloquence? Undoubtedly. 
Yet perhaps the most instantly arresting characteristic of a true gentleman is his style. 
This is something we touched upon in Part I of Mr Tweed's Modern Gentleman's Masterclass, where we said that gentlemen dress to impress for every occasion. And that's what we'll go on to teach you here.

In this, the second part of Mr Tweed's Modern Gentleman's Masterclass, you'll discover the value of a year-round wardrobe, the role fabrics play in your personal styling, to whom you should look for online inspiration, and much more.

So… shall we?
A man for all seasons
Let's begin with something of a clarification — a line in the sand, if you will. 
Being a modern gentleman isn't about spring, summer, autumn, or winter. It's a lifestyle that transcends such parochial boundaries. It's a 24/7 approach to living your life. And your wardrobe is how you communicate your style and sophistication to other people, all year round. 
But, we hear you cry, wardrobes are by their very nature seasonal. 
So how do we square this most bamboozling of circles?
The answer is the capsule wardrobe. 
Originally coined back in the 1970s by Susie Faux, owner of the Wardrobe boutique in London, a capsule wardrobe is a small collection of evergreen garments and accessories that you can wear no matter the season. Items in a capsule wardrobe will never go out of style, giving your look a strong foundation. These items might be trousers, shirts, neckties, and so on — but the concept doesn't end there.
There are, in fact, certain guidelines used to create your capsule wardrobe. So, whether you're an aspiring young gentleman or a more seasoned man of the world, here's how to start building your own capsule collection:
The colour scheme is where it all begins.

You might immediately assume that a singular colour scheme would be at odds with a year-round wardrobe — "Won't I tire of wearing the same colours each day?" — but it's here that the foundations are laid. You start with staple base colours: black, navy, brown, or grey, and then add in one or two accent colours to complement the base. In this way, you can mix and match almost any items and they should all blend perfectly within an outfit.

Consider your body shape.

Then choose the cuts and styles that are the most flattering for you. Always remember: the more confident you feel in a particular garment, the more likely you are to actually

want

to wear it year-round. Selecting a small number of very flattering items is far better than having a broad selection of mediocre choices. 

Think about complexion. Skin tone matters, even for gentlemen. So consider which colours suit you best when picking out your capsule wardrobe pieces. For gentlemen with blonde hair and blue/green eyes, mid-grey and light navy work well. Red-headed gentlemen should consider warm tones, like brown and olive green. And rich hues, like deep purple and red, will make dark skin and features all the more eye-catching.
Focus on quality fabrics

. The clothes in your capsule wardrobe should be as hard-wearing as possible. Luckily, tweed is one of the most durable fabrics known to man, making it the ideal choice for the modern gentleman's capsule wardrobe.
Clothes maketh the man, but fabrics maketh the clothes
Now that you're au fait with the particulars of a capsule wardrobe, it's time to remove a level of abstraction. 
Let's focus not on the clothes themselves, important though they are. Let's talk instead about the fabrics they are made from.
Tweed

is, quite naturally, where we shall begin. One of the most versatile fabrics available, tweed benefits from the natural temperature-regulating properties of wool. And it's durable, too. This makes the tweed suit a fine choice all year round, but you can also find lightweight tweeds — such as worsted wool — for those balmier summer months. Even better, with a

range of tweed patterns to choose from

, you'll be spoiled for choice.
 

Cotton

is perhaps the most complementary of fabrics for the modern-day gentleman in tweed. A lightweight cotton shirt in either white or blue is the perfect pairing for a tweed jacket, offering both breathability and day-long comfort, whatever the weather. 
Denim

helps form a gentleman's casual attire. But don't let sophistication suffer, just because it's the weekend. A tweed jacket elevates a pair of well-fitting jeans — just be sure to choose a denim that complements the colour of your tweed, rather than overpowering it. And whatever you do, don't break the cardinal rule:

no double-denim!

You're a gentleman, not a cowboy.
Top tips from the tastemakers
Inspiration for the modern gentleman is everywhere — you simply need to know where to look. Follow, read, or otherwise engage with the publications and people on this list, and you can't go too far astray.
And if you can often be found on social media, we've got a number of profile recommendations for you, too. 
Jislain's 'Thursday inspiration' posts have featured Michael Caine, David Beckham, and Jeremy Hackett in the past: proof that he understands how true gentlemen carry themselves.
While we don't know his family name, Dennis' style is not something we'd call into question. Recently photographed wearing a newsboy cap, his account is a source of style insights for any gentleman looking to bring countryside style into the city. 
They say a gentleman never tells. But when it comes to styling tips, we're happy to spread the word. You can trust the Tweedmaker Instagram team to post photographs from other gentlemen, just like you.
Inspiration from the star-studded gentleman
Based on the paparazzi shots that flood our news feeds, you might assume there are no gentlemen left in celebrity ranks. 
But, mercifully, there is some refinement to be found outside of the so-called reality stars and other would-be role models. So, who's who in the realm of celebrity? Which male magnates are still holding up the image of the modern-day gentleman?
Here are some of our favourites: 
David Gandy

is perhaps the quintessential contemporary gentleman, quite effortlessly conveying that ineffable sense of style and masculinity. Better still, David has been known to don the tweed on more than one occasion — every inch the modern role model.

Perhaps best known for his iconic tweed jacket and red tie in the lead role of

Luther

,

Idris Elba

is already on our list of tweed enthusiasts. But you won't only see Idris wearing textured wool while he's contractually obliged. He's also been seen "in the wild" wearing wool coats and, yes, even newsboy caps.

Tom Hardy

is yet another Englishman who makes the most of tweed. From plain twill and herringbone to plaid, Mr Hardy has stepped out wearing a variety of tweed patterns over the years. It all plays into his effortless style and reputation as a man of refinement. Few things are more gentlemanly than a well turned out tweed suit, after all. 
New to the world of tweed? Let Tweedmaker be your guide
We very much hope you've enjoyed the second instalment of Mr Tweed's Modern Gentleman's Masterclass. 
At Tweedmaker, we genuinely believe that clothes maketh the man. That's not just a slick catchphrase — it's a way of life. If you're just dipping your toe into the dashingly debonair world of tweed suits and traditional men's clothing, you're already right where you need to be. 
Need a nudge in the right direction? Start by exploring our traditional tweed suits, or peruse the clean lines of our worsted wool suit collection. 
Have a question about our products, your style, or living the gentlemanly lifestyle? 
We're always here, at your service. 
Until next time