Mr. Tweed's Modern Gentleman's Masterclass Pt 1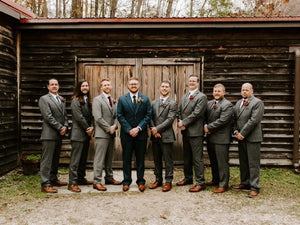 Mr Tweed's Modern Gentleman's Masterclass
Pt. 1
 Getting Ready
Through this new series of master class articles, we shall cover everything you need to stand out as a true modern gentleman – from everyday etiquette to wooing a lady. However, as first impressions are crucial, this article is focused on getting you looking your best.
Daily Hygiene

If you are an adult man, you should have your daily hygiene routine perfected by now. Still, by the looks (and smells) of some men, it's worth zipping through these hygiene must-dos... 
Firstly, no matter how much of a rush you are in, make sure you wash yourself every morning – body, face and hair. Wear fresh clothing, especially underwear and socks. Brush your teeth and use mouthwash.
You can be as charming as you like, but if you smell like a pub, gym or something worse, it'll all be in vain. On the other hand, while a fine cologne is certainly more pleasant than the stench of body odour, make sure you're not using your cologne to mask bad smells in lieu of a good shower. 
Finally, too much cologne can almost be as offensive as body odour, so a few sprays after a shower before dressing will suffice. No-one should smell your perfume before you enter a room – or after you leave it.
Daily Grooming 
There's nothing quite as gentlemanly as a clean shave. Unless you have steady hands, leave the cut-throat to your local barber, and just use a sharp, good-quality razor, a shaving brush, and shaving foam. Don't forget to moisturise afterwards.   
You may, however, be a bearded gent. If so, ensure your facial fur is clipped regularly to keep it from looking too unruly. It's not essential to wash it every day as this can strip the beard's natural oils, leaving it dry and abrasive. Once or twice a week will usually do.
On the subject of hair, we cannot help where it grows, but we can keep it in check. For example, there is nothing quite as off-putting as an unsightly nose hair. Needless to say, the same goes for ear hairs and even back hair (especially if it starts creeping up your neck…). Keep these areas trimmed regularly. Finally, it's also essential to keep your fingernails clean and trimmed, with no jagged edges. Be sure to use a dedicated clippers, not your teeth.

Dress to Impress
Let's quickly address the fact that much of what is currently deemed fashion just doesn't resonate with a modern gentleman – tracksuits, ripped jeans, trainers and baseball hats.  
Instead, choose clothing that allows your personality to stand out. Avoid overbearing patterns and huge logos – you're a gentleman, not an advertisement.
What you wear will of course be influenced by the situation. If you're going to the gym for a workout, then by all means wear sweat-trousers and a sports t-shirt. Otherwise leave them in your gym bag. 
For everyday business, relaxation and special occasions, I'd be doing tweed a disservice if I didn't highly recommend it as the choice of attire for the modern gentleman. Aside from being practical, versatile and hard-wearing, a quality tweed suit can make any man look sharp. 
A nicely-fitting tweed suit is as comfortable and stylish worn to the office as it is an afternoon stroll in the country.
However, whether you choose a timeless tweed design, or something a little bolder, make sure the suit fits – if it looks like it's been passed down by your oddly-shaped uncle, even tweed won't be able to help you. 
Stay tuned for the next instalment of Mr Tweed's Modern Gentleman's Master Class...