New Year, New You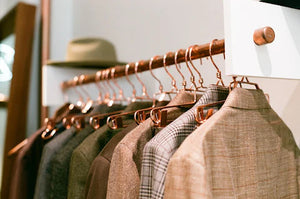 Another new year has rolled by, and it's the perfect time to make some resolutions. We've saved you some trouble and gathered together a few ideas.
So take your pick and be the best man you can be in 2023 — and beyond!
New Year resolution ideas for the modern gent
Level up your wardrobe
In 2020, when we didn't get to leave the house all that much, many a man's sartorial style took a thrashing. Jogging bottoms and slouchy tees became de rigueur. But not anymore.
Now that much of the world has opened up again, it's time to put a little more thought into your attire. If you haven't already, make this year the one when your wardrobe gets a much-needed refresh.  
So, what clothes will help level up your style in 2023?
In our book, you can't do much better than tweed. It's an incredible material — elegant, versatile and durable. It also has a timeless quality. So unlike fashion trends that come and go, tweed has consistently proved that it's here to stay.
Our tips for adding tweed to your wardrobe this year? Pick a three-piece tweed suit in a colour that suits you. Then, select essential accessories. Think shirts, ties, cufflinks, pocket squares, and shoes.
When it comes to styling, remember that you don't need to wear all the elements of your three-piece tweed suit at the same time. You can wear a jacket with jeans. Or tweed trousers with shirt sleeves and a jumper.
Because a tweed suit can be dressed up or down it's equally as suited to a night out on the town, a day at work, or a casual pint in your local pub.
Just another reason why tweed is the perfect addition to your 2023 wardrobe.
Get serious about grooming
Looking stylish and dapper isn't just about what you wear. It's about how you take care of your personal grooming too.
So make 2023 the year you commit to a proper styling routine. Invest in skincare products, schedule regular appointments at the barbers, and dedicate a little extra time to managing your facial hair.
A good razor, beard oil, and moustache wax are just some of the products you might consider if you want to up your grooming game.
Dial up your workout routine
We don't want to get too highfalutin, but we found this quote from Socrates pretty darn inspiring:
No man has the right to be an amateur in the matter of physical training. It is a shame for a man to grow old without seeing the beauty and strength of which his body is capable.
Exercise is invaluable when it comes to your mental and physical health. (Plus, it makes you look even better in your tweed!)
Consistency is key. So set yourself the challenge of exercising at least twice a week — whether that means weights and some serious cardio or a long, brisk stroll.
Eat like a king
You are what you eat. And while takeaways and restaurant meals may taste great, they aren't always the best for nutrition (or a healthy bank balance).
Eating like a king means choosing tasty, nutritious food that makes you look and feel good. And to do that, you need to dust off your chef's apron and spend a little more time in the kitchen.
What may prove helpful if you're embarking on a culinary journey for the first time? A sharp knife, a high-quality non-stick pan, and a recipe book you like the look of.
Then you're all set to eat well and impress a friend or lover with your newfound skill.
Embark on a new pursuit
Feeling good in 2023 isn't just about how many calories you consume or how heavy you can lift. It's about engaging in activities that improve your sense of well-being.
So seek out a new pursuit! Find one that pushes you a little out of your comfort zone and teaches you something new. You'll look and feel even better when you feel mentally and socially enriched.
Like this article? Then check out all of our others, ready and waiting for you on the Tweedmaker blog.