Our Tweed Heroes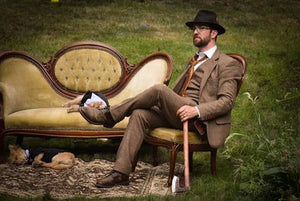 Tweed is an ever-popular fashion choice. It's hard wearing. It carries texture and colour beautifully. And it has a timeless quality, with the ability to look ultra-modern as well as classically vintage.
What's more, tweed is undeniably cool – as indicated by a growing number of male fashion icons who don their tweed at any and every occasion.
We've decided to dedicate a little digital space to these dapper chaps. The guys in the public eye who do modern gent style with some serious swagger. Our tweed heroes.
This bunch love a bit of tweed and wear it exceptionally well. Taking a look at their previous ensembles provides endless inspiration and some winning men's tweed tips to boot.
So who has the honour of being first on our tweed hero list? None other than premier league footballer turned fashion icon, David Beckham OBE.
David Beckham: style icon
Let's be honest. David Beckham's decades in the spotlight have not been without a few sartorial missteps.
Remember the sarong? Or the time he and Victoria went to a Gucci show in matching leather cat suits? 
Luckily for all involved, Golden Balls' sense of style has undoubtedly improved with age.
He swapped cornrows for slicked back hair and designer stubble. And the football pitch for fashion show front rows.
From collaborations with H&M and Belstaff, to fashion mag front covers, to more underwear ads than we have space to mention, David has spent his post-football years cementing his status as a bona fide fashion icon – helped in part, we're sure, by the fashion credentials of his missus.
Nowadays, whether he's wearing relaxed joggers or a perfectly tailored suit, Becks is every inch the elegant modern gent – particularly (even if we do say so ourselves) when he's wearing tweed.
David Beckham's tweed style: our favourite looks
David Beckham loves tweed. In fact, he's a walking advert for tweed's versatility. It seems there's pretty much no situation in which Becks can't achieve tweed perfection.
He wears tweed for walking and foraging close to his rural Oxfordshire pile. He wore it for a New Year's Day family snap in his country mansion courtyard. And he was papped wearing tweed on a day of game shooting with Guy Ritchie.
But Beckham doesn't just rock a tweed look when engaging in gentleman's countryside pursuits.
The red carpet. A date night with Vicks. A trip to pick up takeaway coffee in London Town. David has mastered the ability to dress up or dress down his tweed wardrobe for any occasion.
A quick scroll through his fashion back catalogue offers us no end of men's tweed tips. This is a guy who has well and truly earned his stripes as a TweedMaker tweed hero.
So, without further ado, here are a few of our favourite David Beckham tweed essentials:
Tweed cap
The tweed cap has become something of a sartorial staple for Beckham. He's been pictured countless times in tweed caps of various colors, pairing them with suits, bomber jackets and denim.
He's even modernised a chunky jumper and cords combo (and somehow avoided looking like a high school history teacher) by throwing his trusty tweed cap into the mix.
His penchant for tweed headwear doesn't end there. A quick scroll through David's recent Instagram posts reveals a new addition – a grey tweed hat with a floppy brim.
Needless to say, this is another tweed look that Becks pulls off to perfection.
Tweed overcoat
David tends to don his tweed overcoat when he's out and about in London.
Aiming for an effortless and casual look, we love how he teams his tweed coat with t-shirt, jeans and boots. And how he warms things up with a winter roll neck when the mercury drops.
Tweed three piece suit
For formal occasions, David often turns to – you guessed it – tweed. He wore a three piece tweed suit to a London Fashion Week closing dinner and we can't fault his tailored tweed style.
Tweed suit jacket
Why leave that tweed jacket in the wardrobe waiting for formal occasions?
David often ditches the waistcoat and dresses down his tweed suit jacket with a simple tee or mismatched suit trousers. We loved his tweed jacket in a light beige for a day out at Wimbledon with his mum.
Men's tweed tips: how to get the David Beckham look with TweedMaker
At TweedMaker, we have all the tweed suits and accessories you need to emulate David Beckham's dapper gent style.
Tweed suits
Our tweed three piece suits come in a range of colours. Whether you're attending a formal winter occasion or sipping on your Pimm's at Centre Court, there's something to fit the bill.
To really ace David's style, pick out suits in a couple of colours.
That way you can mix and match. How about matching navy tweed trousers with a single-breasted grey checked jacket?  
For less formal occasions, drop the waistcoat. Or wear your jacket over jeans and a t-shirt for understated elegance.
You can also don a pair of tweed trousers and a hunting jacket for your next day round at Guy Ritchie's.
Tweed caps
Newsboy, flat cap, baker boy – whatever you want to call it, make like Becks and make a tweed cap your fashion accessory of choice.
Here at TweedMaker, we have tweed caps in blue, black, green and khaki – something for every ensemble.
Vintage suspenders
Granted – this is more Brooklyn Beckham than David – but we just couldn't resist sneaking our vintage suspenders onto this list.
David's eldest son is clearly taking inspiration from his dad's tweed style.
Whether hidden under a tweed suit jacket or worn proudly over a simple white shirt, suspenders are another winning fashion accessory for the Beckham clan.
Ready to bring a little David Beckham style to your wardrobe? Head to Tweedmaker for all your tweed fashion needs.
Our beautifully crafted but affordable tweed suits and accessories combine timeless tweed style and a modern fit - exactly what you want as a modern gent.