Our Tweed Heroes: Matt Smith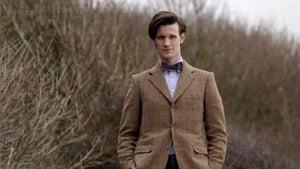 While fashion trends may come and go, tweed holds its position steadfast in the hearts of well-dressed gentlemen everywhere. 
With so many colours, patterns and styles to choose from, there are endless ways to incorporate tweed into your wardrobe. 
Throughout our Tweed Heroes series, we've been touring the wardrobes of some of the most fashionable tweed-wearing gents of our time, including the likes of Idris Elba, David Beckham, and style-icon Gareth Southgate. 
Next up, we have a very familiar face that you'll be sure to recognise from the small screen. A very talented actor with a refined taste in fashion, our latest Tweed Hero is, of course, Matt Smith. 
Men's tweed tips from our Tweed Hero - Matt Smith
Despite playing several distinct personalities on screen, Mr Smith's fashion sense remains true to his personal style. 
Never one to shy away from a tailored suit, Matt Smith is known for his clean, formal ensembles on the red carpet. Even his more casual, laid-back looks hold a sense of pure, unrivalled British charm. 
In 2018, Matt topped GQ's Best Dressed Men and we're about to find out why. 
Let's dive into Matt Smith's lookbook for some ultimate men's tweed tips. 
The tweed suit jacket
How could we discuss Matt Smith's trendy tweed looks without referencing his role as Doctor Who? 
The iconic brown tweed blazer look is all thanks to Matt himself, who attended the first meeting with the Doctor Who crew in his own tweed blazer. He was aiming to channel his character through his wardrobe and it stuck. The bow tie accessory was also a brainchild of Matt, who felt that the look was incomplete without it. 
Understandably, the world went crazy for Matt in his Tweed jacket. Thanks to Matt's role as the time lord, sales of Harris Tweed were boosted by a third.
The tweed casual jacket
While Matt was aiming for a more 'professorial' distinguished look with his tweed suit jacket, he also knows how to dress tweed down for a cool, effortless look. 
When stepping out for a walk in New York City, Matt Smith was spotted in a checked tweed jacket, which he paired with a striped top, black jeans and a printed scarf. 
How to recreate Matt Smith's tweed style with the help of TweedMaker
Looking to pull off the same gentlemanly style as Matt Smith? Tweedmaker has just what you need. 
Light Brown Herringbone Tweed three-piece suit
If you're in need of tweed, then look no further than Tweedmaker's distinguished collection of tweed three piece suits. 
Once you have your very own custom-tailored Tweedmaker suit, you'll never want to take it off - just like the Doctor himself. 
To get Matt's look, opt for the light brown herringbone three-piece suit. This way, you can choose between wearing the full tweed ensemble, or mixing and matching each item with other aspects of your wardrobe. 
Retro Plaid Tweed Three Piece Suit
If we were dressing Matt Smith for a casual stroll down Broadway, we'd choose this retro plaid suit jacket. 
This hand-stitched tweed is perfect for Matt's sophisticated style.
Again, the three-piece suit gives you the freedom to dress head to toe in tweed, or to dress down your look with some black jeans and a scarf like Matt. 
The home of gentlemen's style
If a traditional, British power suit is missing from your wardrobe, then you've come to the right place. 
With Tweedmaker's classic tweed suits handmade to order, you'll struggle to find a better quality tweed suit.