Our Tweed Heroes: Rocco Ritchie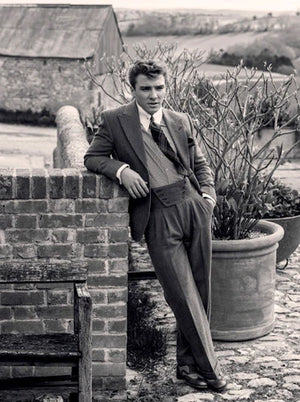 Tweed suits truly are the epitome of classic gentleman's style. From royalty to celebrities and all of society's well-dressed gents, tweed has remained a constant in fashion throughout time. 
But how are fellows styling the iconic tweed suit today? 
With so many tweed colours and tweed patterns to choose from, there are endless possibilities for putting together a sophisticated look.
In our Tweed Heroes series, we've been admiring the tweed ensembles worn by some of the most fashionable men of our generation. Today, we'll be shining the spotlight on Rocco Ritchie. 
Modern style with Rocco Ritchie
As the son of Madonna and Guy Ritchie, it's no wonder that a strong sense of style comes so naturally to Rocco. His father himself has been known to wear Tweed, showing that good taste runs in the family.  
Rocco is often spotted in suits and smart clothing, with a personal style that can be described as elegant and dapper. 
With such distinctive looks, young Mr. Ritchie serves as a great source of styling inspiration. So, let's take a gander through his lookbook of tweed, shall we?
The tweed suit
In a nostalgic photoshoot for The Rake, Rocco opted for tweed suits and vintage sweaters to show off his sense of style. Even with the black and white imagery, the texture and quality naturally possessed by tweed radiates through. 
The formal suit
Although tweed is often associated with the outdoors or countryside, Rocco is pictured here proving how good a tweed suit looks at parties too. Paired with a pale blue shirt, as well as a maroon patterned tie and pocket square, the young man exudes charm and sophistication.
The tweed winter coat
Just when you thought Rocco's tweed ensemble couldn't get any better, it did. On the very same night, Mr Ritchie left the party wearing his brown tweed winter coat. He turned the collar up to add some extra gentlemanly swagger to his look. 
Bright colours and patterns
If you thought that you couldn't wear bright colours with tweed, you thought wrong. Here's Rocco strolling around in his retro tweed suit, paired with a bright mustard sweater and golden tie. His style choices complement his light tweed suit wonderfully, which also features some subtle colours in the pattern. 
Tweed trousers
When heading out to a social occasion with friends, Rocco went for colourful tweed trousers, mixed and matched with a blue dinner jacket. The clashing patterns and materials made for a very dashing modern look indeed!
Find your tweed style with Tweedmaker
Anyone can pull off Rocco's impeccable tweed looks, you just need to know where to start. Here are some of the key pieces to integrate into your wardrobe.
Tweed three-piece suits
The three-piece tweed suit holds unlimited possibilities for your tweed looks. 
For more formal occasions, we'd recommend wearing the tweed three-piece suit as a complete ensemble. You can pair it with some formal shoes, a dress shirt and matching accessories at weddings, birthdays, and other celebrations. 
To get Rocco's party look, simply take off the waistcoat and wear the tweed trousers and jacket. This helps to make the outfit look a little bit more laid back, without losing the charming essence of the tweed. 
For even more outfit possibilities, you can mix and match the tweed jacket or trousers with other items in your wardrobe, just like Rocco. 
Retro plaid tweed
Rocco seems to be a huge fan of the plaid tweed, with this pattern coming up time and time again in his outfit repertoire.
If you'd like to recreate this retro-inspired tweed look, Tweedmaker's Retro Plaid Tweed 3 Piece Suit is the one for you. 
Have our Tweed Heroes inspired you to incorporate more tweed into your wardrobe? Head to Tweedmaker to browse our classic and signature collections of distinguished tweed suits.