Styling Tips for a Three Piece Suit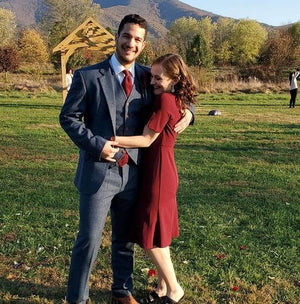 Ah, the three piece suit. A subtle twist on the more traditional two piece suit which can make the world of difference in one's appearance. 
A three piece suit is simply a suit jacket, waistcoat (sometimes referred to as a vest) and trousers, all designed from the same material - for example, tweed.
When a gentleman arrives at an event sporting a waistcoat, he immediately commands the respect of his peers. 
Not just any old chap could pull off such distinguished attire. 
Many would shy away from trying, at fear of not knowing how to style them. Such a shame. 
Worry not young fellow. We've penned this article to encourage those who are doubtful of their ability to style the look. 
How to wear a three piece suit
It's important for us to cover some ground rules:
Keep your bottom button undone.

Gosh that's a mouthful isn't it? But contrary to what one may believe, it helps to give a

cleaner

appearance. Stops you from looking a bit squashed in.
Try to keep your waistcoat matched with the rest of the suit.

It's no good throwing on any old waistcoat. You're going for a formal, put together look. There are fantastic colour combinations that work, but do check if you're unsure. Most suits are sold all as one, so that should quell your fear. 
Do not wear a belt.

Wearing a belt will cause your vest to bulge. We don't want that. If you do require some extra support, get yourself some suspenders. Very dapper. 
Make sure it fits properly.

This is

extremely

important so we'll allocate some further reading to the fit. But not to worry, a Tweedmaker suit is made to order, so you'll know that the fit will be perfect. 
Details on the fit
Shoulder pads
The shoulder pads should end where the shoulder does, funnily enough. If it's too short it will get all bunched up and when it's too big it will hang off you. You'll risk looking like you've raided your old man's wardrobe! 
Jacket length
With your hands by your sides, the jacket should reach roughly halfway down your hand - to the base of your thumb. 
The sleeves should meet your wrist, with about half an inch of your shirtsleeve on show.
Trouser length
Now we can be fairly lenient here. But only to a certain extent. The trousers should brush the tops of your shoes. We don't want to see ankles and we don't want to hide your shoes. 
Additional details
Shoes colours
Black shoes will go with any black, blue or grey three piece suits. You can opt for some browner tones if you're wearing a navy or light blue. 
Lighter coloured suits may be paired with lighter coloured shoes. 
Shirt colours
As with the black shoes, a white shirt is a suit staple. You simply can't go wrong! Pale blue shirts are a spiffing addition to a tweed suit if you'd like to mix things up somewhat. 
The single vs the double-breasted jacket 
Now, the most traditional style tends to be the single-breasted. Double-breasted can come in and out of style while the single-breasted transcends. It's a timeless piece, as they say.
Dressing down
Often, a gentleman will wish to wear his trusty three-piece to various occasions, rather than reserving it - it deserves to be flaunted, we say! 
In more relaxed circumstances you'll perhaps want to dress it down here and there. 
We'd recommend foregoing the cufflinks for more casual affairs. Favour a more extravagant tie with bold colours and patterns, to show that you're really able to let your hair down. 
On the contrary, for more dignified events, do dig out those cufflinks that were a family heirloom. If you're seeking an especially stylish ensemble, then a silk tie is always welcome. 
Opt for tweed
If you're really dressing to impress, you must get your hands on a tweed suit. They really exude an air of eloquence and sophistication.
Effortless style. 
Looking for your own three piece suit?
Tweedmaker happens to manufacture a range of three piece suits for refined gentlemen. 
Take a look at our collection of made to order styles in various colours and patterns here.