The Best Herringbone Tweed Suits For Your Perfect Wedding Day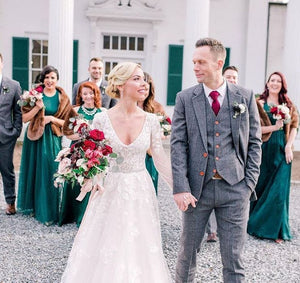 When it comes to your wedding day, of course, you want everything to be perfect. And, for every couple, that's going to look different. It's all about infusing your tastes and personality into your big day: maybe you want a lavish church wedding, a rustic country affair, or just a small backyard gathering with your nearest and dearest.
While every wedding looks different, one constant remains — your outfits. And, as the bride or groom, you want to be looking your absolute best on your wedding day.
A herringbone tweed suit is the perfect way to make an impression and look stylish, no matter the vibe of the wedding. Not only is it fashionable, it's also a distinctly British fabric and a great way to add a touch of tradition to your ceremony. Tweed has evolved from being the clothing of farmworkers, to elite menswear in the 1800s, to what it is today. 
But how best to pick a suit that matches the unique aesthetics of your wedding? Worry not, we're here to help you out with four of our favourite herringbone tweed suits.
First off, what is herringbone tweed?
Many people call herringbone a pattern or a texture, but it's actually a type of twill weave. It's easy to understand the confusion, as herringbone has such a distinctive V-shaped pattern. In fact, that's where it gets its name: it's said to resemble the skeleton of a herring fish.
Herringbone tweed is made with wool in a tight criss-cross pattern, making it warm and sturdy, and suitable for a whole range of climates. It's this versatility that makes it such a popular choice in menswear, across a variety of garments and dress codes. 
In fact, it's been a popular style choice for men for nearly two centuries. In the 1800s it burst onto the fashion scene and quickly became popular for outdoor activities like shooting, golf, and hunting, while cosmopolitan men in the city also embraced herringbone tweed.
It was a practical and stylish choice for gentlemen in the Victorian era and remains a practical and stylish choice for the modern man. 
Herringbone tweed does come in a range of scales — while it's always good to try things on and see what works, usually, a smaller-scale pattern suits slim or small men, while a wider pattern is most flattering for bigger guys.
Why is a herringbone tweed suit ideal for a wedding?
Well, first of all, it looks super stylish. Herringbone tweed suits really do give off an air of sophistication: anyone who wears one is instantly transformed into a dapper gentleman, you have our word. Have you noticed that nearly every man on The Crown is wearing tweed?! 
The beauty of a herringbone suit is that it's extremely versatile, meaning it can work in multiple settings. You can dress them up or down, and choose their colours and weave to look edgy, dapper, relaxed, or eccentric, depending on how you style them..
Type "country wedding" into Pinterest, and you're bound to be flooded with photos of grooms clad in herringbone tweed suits. They really do make a statement. 
Tweed itself is a pretty big part of British culture, entrenched in men's fashion and has stuck around for centuries. It conjures up the image of a quintessential English gentleman, and can add a sense of nostalgia and tradition to your wedding.
Plus, if you're marrying a bride in a white dress, a tweed suit will really pop and compliment her outfit, while also letting your personality shine through. 
Herringbone tweed does come in a range of scales — while it's always good to try things on and see what works, usually, a smaller-scale pattern suits slim or small men, while a wider pattern is most flattering for bigger guys.
4 sophisticated Herringbone tweed suits perfect for your big day 
At Tweedmaker, we craft high-quality tweed suits that will make a perfect outfit choice for your special day. They're all hand-stitched and made to order specifically to your measurements, with a 100% satisfaction guarantee.
Here are our four main styles of herringbone tweed suits to consider, all named after some of our favourite British gentlemen.
This three-piece suit complete with a fitted waistcoat is traditionally formal but can be dressed down if need be. It comes in a complimentary light brown colour which makes it ideal for a daytime wedding ceremony or outdoor reception. Having a classic earth-toned fabric evokes the essence of a rustic country setting, but also will pair well with whatever colour you choose for your groomsmen. 
Pair it with a jewel-coloured tie (like emerald or ruby) to add a pop of colour to your outfit. You could even match your tie to the floral arrangements you've selected for the wedding.
This grey herringbone three-piece suit commands respect — it would look just as fitting at a church wedding as it would in Buckingham Palace. The grey is a great alternative to a stuffy black suit, which some grooms eschew for being too traditional. 
Plus, after your big day, you can easily repurpose the suit — the jacket will look great paired with black pants and a white shirt for a number of occasions. 
A dark grey suit can sometimes be boring, but the herringbone twill of this suit adds a depth that can't be overlooked. You can keep it traditional with a dark tie and pocket square if it suits the mood, or inject some personality with a patterned bow tie or colourful boutonniere. 
You could also liven up the wedding party by dressing your groomsmen in pastel-coloured suits, letting your dark grey outfit really stand out.
The deep blue of this herringbone suit is one that exudes elegance, and will truly never go out of style. Though traditionally grooms wear black or grey, having a splash of colour will look great in photos, especially next to a white dress. Again, this blue pairs well with a variety of colours so you can jazz it up with a bright tie or tone it down with something muted. 
Still need a little bit more wedding suit inspiration? 
We know that everyone has their own unique style! That's why we've got plenty more ideas of how to work a tweed suit over on our Instagram page –— follow us for more looks you're bound to love.