The Perfect Pair: How to Pick Shoes to Match Your Suit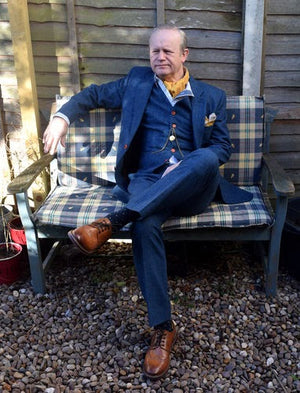 Men, finding the perfect suit for your wedding day, important interview or big birthday bash can be pretty stressful. 
Copious google searches, countless store visits and finally waiting for those adjustments to be made — it can be a long process. 
But once the finished article is on your back, there's no feeling quite like it. And since you've spent so long making sure your suit is in tip-top shape, it would be a big shame to forget about finding the right shoes.  
But where many fall short is knowing which shoes will match their suit the best. 
Black shoes with a blue suit? Loafers with a red three-piece? Brogues with a tweed tux? That's enough colour-coding and mood-matching to exhaust you.  
Today, we're going to iron out all the suit and shoe matching confusion to help you choose the perfect pair. 
First things first: Consider colour 
More often than not, it comes down to an issue with colour. No matter how sharp and slick your suit is, or how clean and shiny your shoes are, if your colours don't match, it's a certified fashion faux pas.  
So, learning which colour combinations will clash and which will complement is the key to achieving the perfect look. 
Shoes to wear with a black suit 
Every guy should own a black suit. The classy cupboard staple, a black tux is the ultimate show-stopper, so it's crucial to know which colour shoes pair best. 
While you might want to experiment with different shades of shoe, we have one piece of advice — don't.  
The contrast of black with a lighter hue of shoe appears awkward and unprofessional. Granted, black might not be the most adventurous of choices, but it's the only colour that will perfectly pair with a black suit.  
This way, you can bring a pop of colour from other areas of your outfit, like a quirky patterned pocket square or a trendy teal tie. 
Shoes to wear with a blue suit 
Feel like a black suit is a bit too boring for your next event?  
Maybe a blue or navy suit is a better option. Express your personality, look smart and stylish, and get some colour on your feet in the process. 
But what does blue go with? The most compatible colours are black, brown and burgundy. 
These colours tend to blend in well with a larger amount of blue — without being distracting.
And if it's a tweed blue suit, even better. The darker shade of blue means you can pair it with a mean pair of black dress shoes, allowing you to dress up your navy suit and get that suave, sophisticated look. 
Alternatively, pick a pair of brown shoes for a more modern look. Brown and navy as a colour combo convey a sharp and polished vibe while offering a little more originality.
Shoes to wear with a grey suit 
If you want to have more room to play, go grey. 
Offering lots of flexibility, grey suits are less formal than blue suits but allow you to really experiment with footwear, with the lighter hue complimenting an array of shoe colours.
If you're having a summer wedding, a lighter shade of grey is most fitting — and with the lighter shade comes more opportunity to apply patterns such as checks or herringbone into the suit. 
In which case, black shoes are perfect. The dark shade dresses up the overall laid-back appearance of a light grey suit and lets those other areas of colour, perhaps in your suit's patterns, come to the fore. 
It's a similar story for light grey suits with brown shoes. The warm tone is perfect for creating a light and summery suit option. 
But, if it's a charcoal or a darker grey suit, you can add more vibrancy to your shoe choice, and there's nothing quite like a pair of deep burgundy shoes for the ultimate gentlemanly getup. With a bold contrast in colour, this combination creates a little edge to your outfit — just remember to stick to simple styles like Oxfords or Derbys to keep the look sophisticated. 
Shoes to wear with a red suit 
Less conventional but a real conversation piece, a red suit is for the bold boys. Wear it well, and you'll be the coolest guy in the room.
 This is not the time to reach for your routine pair of black Derby dress shoes. Instead, opt for lighter options that complement this already bold statement, like classic rust-hued loafers or suede mustard Derbys. 
It's not just about colour, consider style too 
Now you're pro with colour coordinating your suit and shoes, here's the low-down on the types of shoes to think about. 
How to wear Oxfords
This elegant footwear style is the go-to for many style-savvy gentlemen. Versatile, smart and timeless, the simple style of an Oxford is almost always a sure bet with any suit.  
In particular, brown leather Oxfords are the perfect option when paired with a grey, dark brown, or navy tweed suit. Rather than opting for classic black, a brown Oxford is far more striking when paired with these colours.
How to wear loafers 
Loafers are the trendier, bolder brother to Oxfords. 
A classic slip-on style that doesn't feature laces or other fastenings, they're typically made of leather or suede with a flat heel. 
While some would argue the penny loafer or Gucci loafer is the number one suit choice, we'd say the tassel loafers are perfect — especially if you're donning a tweed suit. 
How to wear brogue boots
Brogue boots are an absolute hit for both suits and for a more casual weekend look. 
If you opt for black boots you can pair them with a classic bond tux. Go for brown and you'll look terrifically trendy in tweed. The magic about a tweed suit is that they lend themselves to so many more colour combinations due to their intricate patterning and mixture of shades. 
Generally, black brogue boots suit charcoal and greys, while brown boots go with reds, browns, heathers and mossy hues. 
Feeling inspired? Head to the
Tweedmaker blog
for more fabulous fashion tips and tricks — the one-stop-shop for suave seekers.