Tweed Effect – Why You Should Choose a Tweed Suit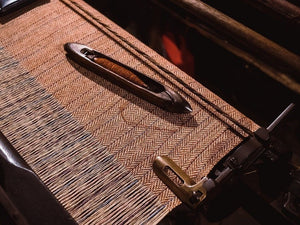 Tweed clothes, especially suits, appear in the trends predictions every year. Truth be told, it doesn't surprise us. A well-made tweed suit is timeless and suitable for many occasions. However, if you have heard about the advantages of tweed but are not yet fully convinced it's something for you, perhaps today's article will dispel your doubts. 
We explain what tweed is, why it's worth investing in a tweed suit and how to choose it well.
What is tweed?
Tweed is a woolen fabric with a specific texture. It is woven in different ways and the most popular patterns are herringbone, check and houndstooth. It usually comes in natural, subdued colours such as brown, gray, dark blue or dark green. That's because, in the past, the fabric was coloured with natural dyes. Nowadays, you can also find tweed fabrics in more extravagant colours such as burgundy or red.
Tweed is perfect for a suit, but it's also great for a casual blazer, jacket or coat. Clothes made of tweed are usually worn for special occasions. Many men, however, also wear them every day and they are perfectly fine for that purpose too.
Tweed is made of sheep wool and it has its origins in the United Kingdom 
Types of tweed
Tweed comes from the British Isles and is still mainly associated with this region. That's why the most common classification is related to this part of Europe as well. 
Depending on the origin of wool (the type of sheep), we can distinguish the following types of tweed:
- Cheviot Tweed - tweed from the wool of sheep of the same name, mainly found in the Cheviot Mountain region;
- Shetland Tweed - tweed from the wool of sheep of the same name, originating in the Shetlands archipelago.
Depending on the origin of tweed, we can distinguish the following types of tweed:
- Harris Tweed - tweed from the Lewis and Harris island;
- Donegal Tweed - tweed from the Donegal County in Ireland.
These two are the most popular ones. A few others to name are Highland Tweed, Saxony Tweed or Yorkshire Tweed.
Harris Tweed
Why should you choose a tweed suit?
Clothing made of tweed is primarily characterized by its versatility. In the past, tweed was used for both hunting outfits and elegant jackets. That is because it's usually made of natural fabrics. Thanks to its characteristic dense weave it is suitable for all weather conditions and different temperatures. Tweed is also extremely durable and resistant to damage, but at the same time, soft and flexible. Of course, its features may vary slightly depending on the origin of the wool and type of weave.
Another important aspect, encouraging to invest in a tweed suit, is its timeless style. Suits made of tweed appeared in men's wardrobes all over the world several decades ago, and they have never gone out of fashion. Tweed means style and class. When it's properly taken care of, it can serve for many years. 
How to choose a tweed suit?
Before you decide on a particular model of tweed suit, you need to answer some questions: 
On what occasions do you plan to wear it? Is it going to be a suit for special occasions or a daily outfit for work?

How often will you wear it? Will you wear it every day or once every few months?

What color does suit you best? Do you prefer something more original or classic, subdued colours?

What cut of suits do you like? Slim or straight pants? How many buttons in the jacket? With or without a vest?
Dark Grey Herringbone Suit | Red Classic Tweed Suit | Light Brown Herringbone Tweed Suit
When you answer these questions, you should know more or less what style, cut and colour you are looking for. Time for the size. Since your tweed suit will most probably stay with you for a long time, we recommend custom made suits. This way you can be sure that it fits well to your figure and is simply comfortable. Surely you wouldn't want to wear a jacket that's too tight or pants that don't fit on you, right? 
If you don't want to waste a lot of time shopping, feel free to order a perfectly fitted tweed suit online. At
Tweedmaker
, we have developed a reliable method of custom measurements that allows us to recommend you the right size of the suit. Just follow our
guide
, send us your measurements and we will take care of the rest! The suit will be delivered to your door, beautiful and ready to stay with you for years.