What Are the Best Tweed Suits You Can Buy Online?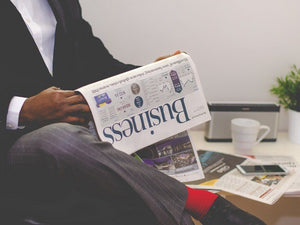 An important occasion is coming up, but you don't have the right outfit? Or maybe you have a suit, but you don't like to wear it because it's uncomfortable, doesn't fit well, or it's out of fashion? We know how you feel! Luckily, we also know what you can do to change that. One option is to go to the store or tailor and buy a new suit. However, we strongly recommend another option - online shopping. 
When buying a suit online, you can place your order in a few minutes, take your measurements at home and wait until the new purchase is delivered to your door. What's more, if you decide on a handmade tweed suit, it will be a long-term investment. So today, we recommend a few great tweed suits that you can find online.  
For starters, a suit in the trendiest colour this season, classic blue tweed. This outfit is suitable for any occasion because it is both elegant and classic, but not overly formal. While slightly contrasting buttons add a little twist to the overall look, this is the ideal choice for a modern man who does not want to buy a new outfit every season. If you like a bit of retro style in combination with a check pattern, you should take a look at another blue option - Retro Blue Check Tweed Suit.
Blue Herringbone Tweed 3 Piece Suit
The next proposition is an all-time classic. Shades of grey have always appeared in the colour range of tweed suits. This is because a grey three-piece is suitable for every man, regardless of his type of silhouette or age. The Grey Classic Tweed Suit is a safe choice. It will last for years and will probably never go out of fashion. So feel free to make this investment! For those who prefer to have a broader choice when it comes to the colour, we also recommend the delicate check version and a slightly lighter retro option.
Grey Classic Tweed 3 Piece Suit
This three-piece suit is a tribute to the origin of tweed fabrics. When the first tweeds started to be weaved in the UK, they were coloured with natural dyes. Therefore, all tweed clothes were then in the colours of the earth, of nature. We believe an Olive Green Check Tweed Suit is a great choice for those who like the refreshed classics. An additional advantage of this suit is the possibility to choose the colour of the vest. There are two available options - matching olive green or contrasting burgundy. 
Olive Green Check Tweed 3 Piece Suit
Another suit in natural colour is the Brown Check Tweed Suit. The darker but subtle check makes the suit even more elegant. Pay attention to the perfectly finished details and the way the tailor matched the pattern. The high quality of this suit will definitely attract looks. With this Brown Check Tweed suit, you will feel like a real English gentleman ready to receive many compliments. 
Brown Check Tweed 3 Piece Suit 
After various classic options, it's time for a slightly more original proposal. The Red Classic Tweed Suit is a great choice for men who want a timeless cut but are ready to go a bit crazy when it comes to the colour. The red will certainly attract attention and impress people. The high-quality tailoring also deserves mentioning. If you decide to buy this suit, we recommend to pair it with a bright, contrasting shirt and pocket case. This way, you'll have a modern and elegant outfit for every occasion. 
Red Classic Tweed 3 Piece Suit
We decided to finish with something for the retro fans. The Retro Plaid Tweed Suit is another grey suit, but this time with a strong check pattern that comes to the forefront. That's probably the suit that brings a vintage English gentleman look to your mind the most. As you can see, this style has still not gone out of fashion and you can be sure it won't for a long time. This three-piece tweed suit is a good choice if you are looking for something for special occasions but also for casual family gatherings or drinks with friends. 
Retro Plaid Tweed 3 Piece Suit
Is it possible to buy a perfectly fitting suit online?
That question certainly came up in your head, didn't it? One might be sceptical about buying a suit online. We understand these doubts, but we assure you there is nothing to worry about. At Tweedmaker, we've developed a custom measurement method that works perfectly for custom-tailored suits ordered online. Ask a tailor or a friend for help and use our guide to measure yourself. The guide explains exactly how to do it, so take a look after you've ordered a suit. 
And for now just a few general tips:  
Measurements should be taken snug but not tight.

In all instances, make sure that the tape measure is level across or around the body.

Do not add extra inches for comfort. Our highly skilled tailors already factor in for comfort. Submit all measurements exactly as taken for a perfect fit.

Submit all measurements in inches.
How to wear a tweed suit
In the end, we have a few hints on how to wear a suit properly. For those of you who have decided to buy a beautiful tweed suit, these will certainly be useful!
The colour of your shoes should go well with the colour of your suit

– it doesn't mean it has to be identical, but you should avoid too much contrast.

The tie, on the other hand, should be in contrast to your shirt

– in this case, the contrast is what you need.

Remember to pair an appropriate watch with the suit

– the style of the watch should match the outfit, the sports watch is just for casual outfits.

Too many accessories don't look good

– we mentioned the tie, the watch, but these are the essentials. Remember that exaggeration is never okay. Less is more.

Always keep the last button of a jacket open

– it just looks better this way.

When you're sitting, unfasten the buttons

– it's both for aesthetic reasons and for your comfort.

Button the shirt at the top

– with a shirt, the rule is different than with the jacket. If this is not comfortable for you, that means the shirt doesn't fit well.

The jacket should end around the end of the trousers' zipper

– this way it looks elegant, but not too long.
By following a few simple rules, you'll always look well in a suit
Online shopping is very convenient, and hopefully, we convinced you that it works very well, even with custom-tailored suits. If so, don't wait any longer, visit Tweedmaker shop and choose the right cut and colour for yourself. Once you receive it, don't forget to let us know how it fits!