What to Wear to a Summer Wedding: Men's Summer Wedding Suit Ideas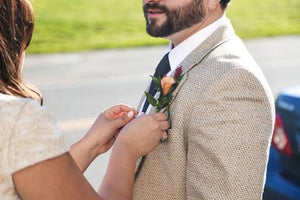 With summer just around the corner, our wedding dreams are about to come to life. Bright blue skies, searing sunshine, all the people you care most about, no mention of the dreaded C word — sheer bliss.
But while all the essentials for a wonderful wedding might be covered, what about the suit? 
Sure, summer weddings are the epitome of a dream romance, but they can be a little trickier when it comes to choosing the perfect suit. Great for women who can opt for light and airy dresses, but what's a guy to do to keep cool and look the part? 
In this article, we'll give you all the advice you need for looking dapper at a summer wedding. 
The type of suit
Don't get us wrong, there is little we love more than a slim-fit traditional tux  — but they're just not that summery. 
Summer weddings are known for clear skies, warm temperatures and great photos, so dressing to suit those settings is key. 
Opt instead for a blazer and trousers, or forego the jacket completely and simply don a shirt with a waistcoat and braces. This is a great way to convey a casual yet polished look that will keep you cool. 
For a more laidback celebration, go for a pair of chinos or colourful linen slacks paired with a blazer. 
Don't dismiss shorts either. It really depends on the overall look of the wedding. If it's a chilled outdoors garden party or an old barn affair, then a smart pair of shorts are acceptable.
Looking for something a little more vintage? Then the rustic look of a tweed suit is a stylish option, perfect for outdoor weddings. 
While you may think tweed might be a heavier fabric more suited to cooler climates, simply wearing a tweed jacket and slacks without the waistcoat lets the air in and allows you to maintain a traditional style while looking summery. 
What's more, when night comes and the air gets cooler, you'll have your tweed to keep you warm. 
The colour of your suit
First things first, don't opt for black. Not only will it look seasonally inappropriate, but it will make you feel uncomfortably hot throughout the day, as dark colors attract the sun. 
Instead, look to light-coloured suits like light blue, light grey, or beige. Sand or stone are trendy shades to call upon too. 
If you're feeling bold enough, why not embrace colour and go bright? Dazzling blue, pinks and mints, or perhaps a quirky pattern. As well as bringing out your personality, they will make you really stand out amongst the crowd.  Striped suits are definitely in for summer too, paired with a coordinating waistcoat and contrasting patterned tie. 
And, if you've been invited to a tropical wedding, which tends to be less formal than indoor weddings (think golden sand and palm trees), you can wear a coloured or patterned dress shirt. Make sure to pair it with leather shoes and a tie to keep things smart. 
If colour just isn't your thing, then you don't have to don it. A pale grey or sand-hued suit or trousers and waistcoat look just as eye-catching. Especially when paired with tan-brown accessories and a splash of summer colour in the tie and pocket square.
Or, wear brown tweed and combine it with light blue and a mauve tie for a terrifically traditional yet trendy look. 
Top tip: Check the invitation or ask the groom what the wedding colours are. Some weddings have a selected colour palette and matching it will make the bride and the photographer very happy.
The accessories
Here's where you can have a little fun. 
While weddings aren't usually the time for novelty prints or loud patterns and colours, when the sun is out it's a different story. 
Mix it up with different prints and patterns, add pops of colour and really embrace the fun and flamboyance of an outdoor summer wedding through your fashion. 
Consider colourful, eye-catching ties, bowties and boutonnieres, or opt for a print shirt underneath a plain blazer to bring a little brightness to the look. 
If you're a real trend-setter, match your pocket square to the pattern on your shirt. It's a sure-fire way to achieve a coordinated summery look. 
Bowties are our go-to for a fun summer wedding feel. Less formal than a tie but equally as stylish, these little touches are ideal for presenting your personality — pair a bright patterned bow tie with a plain shirt.
And, don't forget your sunglasses! However, if you go too bold with your shades it will overpower your look and detract from the main event. Stick to classic styles like aviators or clubmasters to achieve a suave, summertime style.
And for the feet? Well, brogues with no-show socks are a real winner. 
Summer wedding suit inspiration
Check out these ultra cool summer suit looks... 


At TweedMaker, we have a fabulous range of worsted wool suits. 'Worsted' refers to the yarn the cloth is woven from — longer fibres are used, and spun into a finer yarn. 
This sleeker yarn produces finer cloth — perfect for a summer wedding. 
Browse our vast range and begin planning your ultimate summer suit get-up.