Why Wear A Custom Tailored Dress Shirt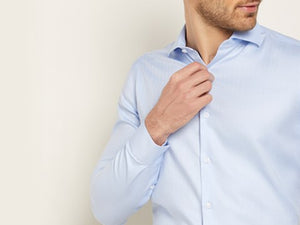 Traditional men's fashion may seem simple and straightforward. Shirt – check. Trousers – check. Jacket – check. Belt, socks and shoes – check, check and check! While the garments may seem simple, seam is the operative word. Pun intended. In fact, it's the seams that can make or break your outfit, in more ways than one. As the saying goes, the devil is in the detail and it's what's hardly visible to the eye that can make all the difference.
If there's one cardinal rule in men's tailoring, it is that fit is paramount. You can buy the most expensive dress shirt, a designer suit and trousers, and they can be made of the finest quality fabrics but if they don't fit you right, then they won't look good on you. Period. That, is one of the main reasons why wearing a custom dress shirt makes perfect sense and is in fact, the ideal way to go.
Everybody has a slightly different built and body type. Whether it's your height, the width of your shoulders, the measurement of your waistline and even your neckline, the length of your arms or the length of your torso, no one is exactly the same in every aspect. You may be similar but you'll hardly be precisely the same. Purchasing an off the rack dress shirt means you're limited to the sizes available. This can mean that even if the dress shirt fits your torso, the shoulder width might just be slightly off or the neckline may just be that tad bit loose or that tad bit tight. Choosing a custom dress shirt spares you from all this trouble.
When you wear a custom dress shirt, you know that every detail of the garment is made exactly for your body, based on your own precise measurements and according to your specifications and personal preferences. You're guaranteed a sleek and sharp look. You can put on your dress shirt and step out, not only in style, but with the confidence from knowing that what you have on fits you perfectly.
There are also other added benefits to a custom dress shirt. Not only are you assured a perfect fit, but you also have the freedom to choose a style that fits your personal fashion sense. You are able to choose everything from the type of fabric, its color, whether you want a solid color, printed or patterned design, the type of buttons, as well as the cut and other style elements of your dress shirt. It's a great opportunity for you to highlight your own sense of style, whether you have a more classic sensibility or a flamboyant flair. On top of this, choosing a custom dress shirt just saves you time and energy. Forget having to go from store to store, trying on one shirt after another just to find the perfect one. A custom dress shirt saves from you from all that hassle.
So, the next time you're in need of a dress shirt, custom is the way to go. You're sure to both look good and feel good when you wear your tailored dress shirt that's made just for you.