How to Stylishly Accessorise a Suit: 7 Unique Suit Accessories to Up Your Suit Game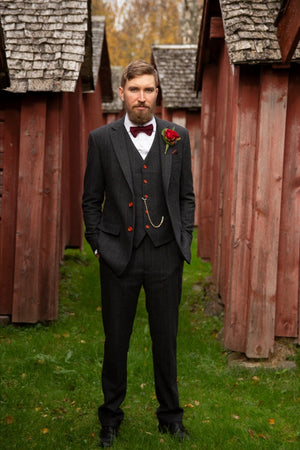 A snappy tweed suit is the ultimate sartorial statement. But, if you want to elevate your gentlemanly attire to the next level, you'll be needing the help of a few unique suit accessories.
Accessories add colour, pattern and personality to a suit, enabling you to reimagine the same three-piece in a variety of different ways.
From suspenders to socks, pocket squares to pocket watches, here are the suit extras that will help you to express your own flair and individuality.
7 unique suit accessories
Neckwear
There's no better way to stamp your personality on a suit ensemble than with neckwear.
With so many options in terms of colour and pattern, it's easy to find unique suit accessories that truly speak to your sense of style, whilst also respecting any dress code you're sticking to.
Ties are a great everyday option for the tweed-wearing gent. For simple, solid style, we love a classic wool tie in a single bold colour. Bow ties can be fun or formal and make a wonderful pairing with three piece suits.
And if you fancy going all-out with vintage sophistication, check out these patterned cravats, perfect for a formal occasion.
Of course, there's also a time and a place to forgo neckwear altogether. Embrace informality, undo the top button of a shirt and let your tweed wares speak for themselves.
Headwear
Way back when, a gent wouldn't leave the house without his hat.
These days, hat-wearers stand out from the crowd, particularly when they eschew modern baseball caps and beanies for something altogether more sophisticated.
A fedora adds instant gravitas. A bowler is the epitome of old world elegance. And a newsboy cap – as sported by many a tweed-dressed A-lister – is an informal, versatile and undoubtedly dapper option.
Pocket square
Like a tie, a pocket square is an opportunity to add colour and individuality to your tweed suit attire whilst maintaining the requisite formality.
Pick out a colour and a pattern that complements the overall look of your suit without matching too perfectly. Then fold your square in a nonchalant fashion and add this finishing touch to your suit jacket pocket.
Suspenders
Suspenders are another unique suit accessory – perfect for gents with a penchant for old-fashioned style. They sit under the suit jacket and waistcoat, adding character and personality when you go down to shirt sleeves.  
But suspenders don't just look good. They're actually a great and practical alternative to a belt. That's because they don't cinch the fabric around your waist. This helps your tweed suit trousers to hang and drape correctly, giving you the best possible silhouette and a few vintage style points to boot.
Cufflinks
Wearing a dress shirt with French cuffs? Then you'll be needing some cufflinks – the hallmark of a fashion-conscious, well-dressed chap.
Here at TweedMaker, we think simple is best. No flashy gemstones or complicated motifs. A glimpse of plain silver or gold is more than enough to add shine and substance to your suit attire.
Socks
Socks are an oft overlooked element of the suit ensemble. But this is not a mistake the worldly modern gent is likely to make. He knows that a carefully curated clash gives a beautiful tweed suit that little extra edge.
So pick socks in a bold colour, making sure that underlying tones complement the shade of your suit. And don't be afraid of spots, stripes and any other elegant pattern – just steer clear of anything too gimmicky.
Pocket watch
Want to up the vintage charm of your ensemble? A pocket watch is a really useful and exceptionally stylish tweed suit accessory.
The flip-cover watch sits snug in your waistcoat pocket until a time-taking opportunity arises. But the chain is an always visible statement of gentlemanly elegance.  
Whether you're looking for unique suit accessories or a quality, affordable tweed suit, it has to be TweedMaker. View our collection and find your perfect fit today.