Festive Tweed: How to Dress for the Holidays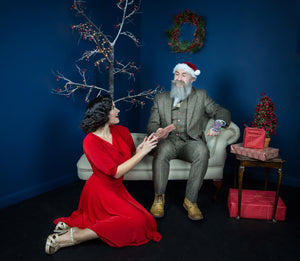 Judging by the playlist of every single shop we venture into, it's that time of year again. The holidays are right around the corner. Mulled wine, mince pies and many a social gathering await.
As well as providing an excuse for copious consumption of food and drink, the festive season also offers ample opportunity for dapper dressing.
So what should you be wearing at this time of year?
In our humble opinion – there is no ensemble that does winter warmth, comfort and signature style better than the inimitable tweed suit.
If your tweed suit hasn't ventured out of the wardrobe since the last special occasion you attended, there's really no better time to give it the outing it deserves.  
Here are a few TweedMaker tips for tweed wearing during the upcoming holiday season.
Pick out festive colours
During the festive season, everything is suddenly decked out in red and green. Whilst primary shades may look striking on a Christmas tree, they do not belong in the wardrobe of a stylish modern gent.
Luckily, tweed comes in a range of beautiful, muted shades. Take, for example, this red tweed suit – the colour of a fine wine. Or this olive green tweed suit with a contrasting red waistcoat. Not a garish tone in sight.
Both of these suits fit wonderfully with the merry, bright colour scheme of the season – but they are understated enough to wear at other times of year too.
Choose the right knitwear
For the love of Pete – leave that gimmicky Christmas jumper on the rack.
The world around you may be losing its head amongst the tinsel, but there's really no good reason to forgo your sense of gentlemanly style just because the Christmas countdown has begun.   
If you really want to don some cosy knitwear, layer a plain woollen jumper over a shirt, then pair it with tweed trousers. It's perfect attire in which to enjoy winter walks and a warming toddy by the fire when you get home.
Dress up or down for the occasion
The beauty of a tweed suit is its versatility.
Attending a family Christmas dinner? Celebrating the season with colleagues? Ringing in the New Year with your best buds? There's always a tweed ensemble to match the occasion.
To up the formality, wear a full three piece suit and add in accessories like a woven tie, pocket square and dress shoes.
Dialling it down for a more smart casual affair? Avoid matching your jacket to your trousers. Wear boots with your tweed. And take off your jacket to reveal rolled up shirt sleeves and vintage suspenders.  
Stay snug
Whether you're somebody who wishes for a white Christmas or someone who curses the ensuing travel chaos, staying warm during the festive season is a must.
Tweed suits are made from wool, which means they're pretty cosy already. But when the temperature really drops, add a tweed cap and perhaps a tweed pea coat into the mix.  
Jack Frost may be nipping at your nose, but the rest of you will be toasty warm - and super stylish.
Keep it classy but comfortable
You really can't go wrong with a tweed three piece.
Tweed is cosy and characterful, evoking the festive season whilst retaining undoubted elegance. 
It's comfortable enough for lazy days of over-indulgence but classy enough for formal celebrations. It manages to be both nostalgic and contemporary.  
Tweed is the ultimate in adaptable festive wear and a must-have for any modern gent wanting to celebrate the coming holiday season in style.
Ready to find exceptional festive tweed?  
Here at TweedMaker, we believe that every dapper chap deserves an early sartorial treat from Santa. And we've got everything you need to win at festive season style.
Take a look at TweedMaker's range of quality, affordable tweed suits and accessories to find your ideal festive ensemble today.