How Long Should a Good Tweed Suit Last?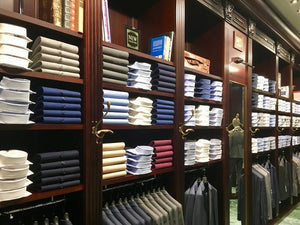 A good suit should be one of the basic elements in every man's closet. But what does a good suit mean? I believe a good suit is:
- made of durable, high-quality material
- custom tailored to match one's figure 
- timeless, classic and never goes out of fashion
The last point is, in a way, the consequence of the first two. If a suit is made of high-quality material and, in addition, it's perfectly sewn, it will stay with you for a long time. 
In today's article, we explain how long does a tweed suit last and how to maintain it in good condition. 
How long can a good suit last?
When a man buys a suit, it's usually to wear it for many seasons. It's an essential part of every man's closet. They wear it for important family events such as weddings, graduations or birthdays. But in many cases, a suit also serves as an elegant outfit for job interviews, business meetings, or simply everyday work outfit if the job requires it. The suit is with a man every time he wants to emphasize the importance of the event. The suit helps him express his respect and professional attitude. Therefore, for a suit to perform this role, it must be of high quality. 
Tweed is a timeless and elegant fabric, perfect for a suit
Good suits can be used for many years and remain in great condition. However, their longevity depends on many factors. The most important are:
- the fabric 
- craftsmanship
- the frequency of use
- the way it's washed 
- the way it's stored
If you wear a suit very often, it will certainly wear out faster than a suit that is only worn for important occasions. On the other hand, even if you wear it regularly, you can significantly extend its "life" by storing it properly or cleaning it according to the instructions.
Above all, however, the fabric plays a major role here. A good tweed suit should last many years. Some men have them for 20 or 30 years and they still look new. Others get it from their fathers or grandfathers, and so they last generations. This is because high-quality tweed is a classic and timeless fabric. It never goes out of fashion, and it's much more durable than other materials. Some people say it gets better as it gets old. 
 Retro Plaid Tweed Suit | Blue Herringbone Tweed Suit | Retro Grey Wool Suit
How to recognize a high-quality blazer, suit, or tweed jacket?
Fabric - look for natural materials (in case of suits, it should be mainly wool). The higher the percentage of natural fabrics in a suit's composition, the longer it will serve you. What's more, natural fabrics look so much better. A small addition of synthetic material, on the other hand, prevents the suit from creasing too much.
Seams – the seams can be easily checked even by someone who has never used a sewing machine in their life. It is worth paying attention to whether the seams are straight, neat and stretched. It's also essential that all seams are finished. If not, the suit will quickly show holes, rips and it will look sloppy. 
The way the details are finished - the details are a testament to the quality of the suit. The way the cuffs, pockets, collar and inner parts of the suit (e.g. the lining) are finished is a good indicator of the quality of sewing. Also pay attention to accessories, such as buttons or threads. Their quality is important and they should match the style of the suit.
Olive Green Check Tweed Suit | Retro Blue Check Tweed Suit | Brown Check Tweed Suit
Tweed suit is a
timeless investment that
pays off every time you wear it. Tweedmaker cares about high-quality fabrics and craftsmanship. The
suits we make
are classy, elegant and most importantly— tailored to fit their owners perfectly. Choose your tweed suit wisely and it will stay with you for years, guaranteed!