How to Care for Your Tweed Suit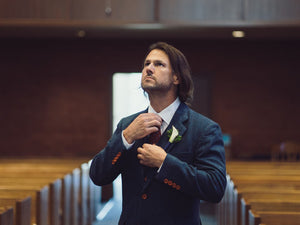 As the saying goes, "loved clothes last" and when you're spending your well-earned money on a quality tweed suit, you most certainly want it to last. There are few things worse than a man wearing an ill-fitting suit. You want to get your suit's fabric, cut and fit just precisely right for you, both in terms of your personal style and your body type. With this in mind, a suit is among the garments that's worth investing in. While its style will stand the test of time, allowing you to wear the timeless garment for years to come, caring for your suit and its fabric is paramount to ensuring that you're actually able to maximize the lifespan of your garment and of course, what you've spent on it.
To help you do just that, we've put together a quick guide to care for your own Tweedmaker suit.
Hanging Your Tweed Suit
For starters, when your tweed suit is hanging in your closet, you want to make sure that you hang it on a sturdy, well-padded and adequately-sized hanger. You don't want a narrow hanger that will leave the shoulder area of your suit drooping over it. However, you also don't want a hanger that's too wide and goes all the way to the sleeves, leaving hanger marks on them. You want the width of your hanger to match the shoulder width of your suit to maintain its form.
Storing Your Tweed Suit
Next, it's advisable to store your suit inside an airtight garment bag. This will keep it clean, preventing any accumulation of dust and dirt, as well as any exposure to harmful elements, especially fabric eating moths. You may also opt to use moth balls inside your closet, if you aren't too averse to their scent. Another way to prevent moths from damaging your suits or any other clothing is by placing a dehumidifier in your closet.
Cleaning Your Tweed Suit
Most importantly, before storing your suits, or any garment for that matter, in your closet, you need to make sure that your suit is clean, preferably fresh from the dry cleaners. Storing soiled or recently worn items without proper cleaning can be very damaging.
While most suits should be dry cleaned, there are some exceptions to the rule and so it's always important to refer to your garment's specific indicated cleaning instructions. All Tweedmaker suits are to be dry cleaned only and may be ironed with a cool iron. If your iron has a wool setting that is the perfect setting to use. 
Before storing and also before wearing your suit, use a lint roller or a clothes brush on the fabric. Lay your suit on a flat surface and carefully apply the lint roller or clothes brush on it using wide strokes and going against the nap of the fabric. This will remove any unwanted particles and dust from it.
Follow these quick and simple tips and your loved suits will surely last and leave you looking dapper for any and every occasion.