How to Wear a Waistcoat?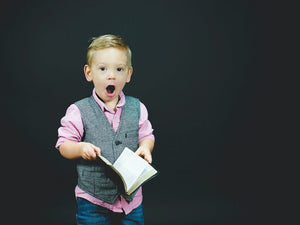 If I were to choose one piece of menswear that is the most underestimated, I'd pick the waistcoat. Men treat it as a necessity for very formal events or as a redundant part of a three-piece suit that often stays at home. It shouldn't be this way. Once you know how to wear it, a waistcoat can be a charming addition to your outfit. Designed to define a man's silhouette, it gives them a chance to experiment with layers and textures. A waistcoat is also much more versatile than you think. It's crucial for completing the look of an elegant three-piece suit, but it's also a base for a smart, less formal look - as well as a trendy accessory for a casual outfit. Waistcoats are both stylish and practical, so today I want to show you how to wear them. Hopefully, after reading this article, you'll understand how much you're missing out by not having one in your wardrobe.  
A waistcoat should fit
The first and most important rule is: the waistcoat must fit well. I deliberately separate this point from the others, because I truly want to emphasise how essential it is for "operation waistcoat" to become a success. The same applies here as with a suit; you'll only look good in a waistcoat if it fits correctly to your figure. You definitely don't want it to be oversized, and, just as importantly, it can't be too tight. You need to avoid any pulling, especially around the back and at the buttons; It's not comfortable, and it doesn't look right. The opposite scenario – too much fabric – is equally undesirable. Usually, waistcoats have a strap at the back to help adjust it to your figure, but don't rely on it too much; It's really just for subtle changes.
Since the waistcoat is a well-fitted garment that should be close to your body, it's also important to choose one that allows you to move around freely. Therefore, to prevent it restricting your movements, make sure yours has high armholes and fits you well around the torso and shoulders. The material on the shoulders should lay flat (and not lift) when you raise your hands. This is the first test you need to perform when trying on a waistcoat (or as soon as it's delivered if you shop online).
Finally, the waistcoat really does need to complement the rest of the outfit. It should be long enough to cover the waistband of the trousers as well as the bottom buttons of the shirt. Also, make sure the back section of the neck hole is well placed under the collar of the shirt; this way, it will be kept in place. If worn with a suit jacket, the waistcoat needs to be visible at the front (don't let the blazer hide it entirely).
How to wear a waistcoat?
Here are some basic rules for wearing the waistcoat properly. As long as you stick to them, styling this undervalued garment won't be a problem.
Make use of an extra layer
Let's begin with a practical merit of a waistcoat. It acts as an extra layer to keep you warm in the winter, but it's also a perfect addition to a shirt on the days when a suit jacket is too much in the summer. As well as being a light alternative to a cardigan on warm spring days, it's also a safe choice for the autumn season when the weather is changeable and difficult to predict. Layering is also a good option if you have a busy day of work appointments ahead of you. As you can see, treating the waistcoat as a practical part of your wardrobe can turn out to be very helpful – at all times of the year.
Mix colours and textures
Layers are not just for keeping you warm. They create an opportunity to experiment. Feel free to mix the colours or textures of your outfit, as well as trying different materials - but remember to do it with taste! Don't mix everything in one styling. If you decide to combine different textures, keep the colours toned-down. Alternatively, if a waistcoat stands out colour-wise, have it made from material that is similar to the rest of the outfit. For example, dark denim jeans and dark-blue or grey tweed could be a perfect combination. Basically, all pieces of the styling should complement each other.
Look at the three examples below. The first option includes a red, eye-catching waistcoat, while the tie and suit are made of the same subdued tweed. This way, you can make your waistcoat stand out with a contrasting, but complementary colour. The styling on the right, on the other hand, is monochromatic; the tie, waistcoat, and suit are made of the same material. You can also go for something in between by keeping the contrast, but in classic, safe colours like the option in the middle.
Olive Green Tweed Suit | Retro Grey Suit | Retro Blue Tweed Suit
Be careful with accessories
A waistcoat may be treated as an accessory itself, so there's no need to complement the outfit with many other details. Usually a classic tie should be enough. Although, if you'd like to aim for the total 'English gentlemen' look, then check out the Peaky Blinders TV series. There, you'll see that you can easily add a tweed cap or a pocket watch.
Always keep the last button unbuttoned
The primary purpose of a waistcoat is to add a touch of elegance to the outfit and to keep the silhouette well framed. Therefore, always do the buttons up (apart from the bottom one). This rule applies for both aesthetic and practical reasons. Not only does it look neat and chic, but it's also more comfortable for the wearer. With the lowest button unfastened, you can freely move around and sit down without being uncomfortable or worried about unwanted folds.
Choose high-quality materials
Just like with a suit, or any kind of clothing, you should aim for quality materials. Avoid 100% synthetic fabrics and shiny textures. A waistcoat is a vital part of the outfit, and it will only fulfil its function if it's made of high-quality material. Moreover, if you invest in quality, your waistcoat will serve you for many years - in any weather conditions.
Waistcoat as part of a formal outfit
I want to present three main types of waistcoat stylings. The first one is a classic (and probably the most popular) – with a three-piece suit. In this combination, a waistcoat performs a crucial role - to provide a sense of formality to an outfit. As an extension of a suit, it's best to buy it together with the jacket and trousers; this way, you'll be sure that it's perfectly fitted. If you want to have more options to create a formal styling with a three-piece suit, it may be a good idea to buy two of them and then mix various parts with each other.
Waistcoat performs a crucial role in a three-piece suit.
It's worth mentioning here that there is also a double-breasted waistcoat that is considered even more formal and is usually worn with a morning dress. These are often backless and shorter to show more of the shirt at the front.
A two-piece suit smart look
Although wearing a waistcoat as part of a three-piece suit is the most traditional option, it's certainly not the only one. It can also create an impressive look with trousers - appearing smart but not extremely formal. Complemented with a nice shirt, it's a perfect outfit for warmer weather and busy work days; it's comfortable and elegant at the same time.
Although wearing a waistcoat as part of a three-piece suit is the most traditional option. | Tweedmaker suits
Casual stylings with a waistcoat
A waistcoat can also be worn on its own as the centre piece of your outfit. With regular trousers, jeans or chinos, it creates a casual and stylish outfit which seems to be gaining popularity lately - especially among younger generations. You can wear a cotton waistcoat over a light, pastel shirt for summer, or a tweed waistcoat with a classic, light-grey shirt for winter. The only thing to remember when going for a casual styling is that a short-sleeved shirt is definitely out of the question. You can, however, roll your sleeves up if you need to.  
 A waistcoat can also be worn on its own as the centre piece of your outfit.
Hopefully, I've managed to convince you that a waistcoat is a great addition to formal and smart stylings - for any occasion. If worn well, it makes any outfit classy and chic. It's also very practical and, if it's fitted correctly, a waistcoat can suit any type of silhouette - so don't be afraid to introduce it to your daily wardrobe!