Why Do People Dress Up During Lockdown?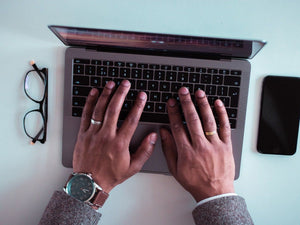 The Coronavirus pandemic has changed our lifestyles in many ways. I guess nobody expected a few months ago that so many people around the world would have to stay at home for so long. Due to the lockdown, our daily routine is completely different, and a lot of our usual activities are no longer doable. For all of us, it's an unprecedented situation - demanding huge adjustments as to how we go about our day. At the same time, it's fascinating to observe how people react and how they cope with all these changes.
Since we are a clothing brand, the aspect that draws our attention the most, obviously, is the way people dress. We've always known that the clothes we wear influence our mood. It's been proven by scientists long before the virus - but now it's more visible than ever. Faced with little prospect of going out any time soon, it's easy to feel miserable and fall into a uniform of cosy sweatpants and pyjamas. Apparently though, many people have taken a different approach. After the initial dismay, when no one really knew what was going on and how serious the situation was, I noticed that there were more and more initiatives encouraging others to dress up during the lockdown.
Instagram, as always, provides tons of inspiration in this field. The popularity of hashtag #staystyled continues to grow. People share photos and videos of themselves dressed nicely for regular activities like having breakfast, working from home, meeting with friends (online, of course), or just going to the bin. Even famous people (while at home) have posted pictures online of them wearing a tuxedo or a three-piece suit. Out of curiosity, I decided to dig deeper and find out just what motivates people to dress so nicely - despite the lockdown. Check out what I discovered!
Routine
It turns out we do like regularity! It's helps us stay sane and keeps our lives on track. Working from home is new for many people; it naturally creates a challenge to be efficient and stay focused outside the office. Changing from your pyjamas to a work outfit, whether it's a suit or just a t-shirt and jeans, gets people in the right mindset for work and gives them a sense of control. Wearing work clothes not only prepares the mind but also the body for a day 'at the office'. People will be much more productive, which then makes it easier to separate 'work' time from 'home' time.  
"Every day, I dress up in one of my suits and start work – always at the same time. It's much easier for me to talk to clients and stay focused all day when I wear my usual work clothes." – says the marketing manager of one of our partner companies.
Sense of normality
As difficult and unique as the situation seems, it's essential to keep a sense of normality in our lives. Right now, there are many aspects of 'everyday life' that we cannot change – going out, travelling, (in many cases) going to work, or even running a business; therefore, while we have to stay at home, it's much more beneficial to focus on the things we can do – which is quite a lot! We're in control of the way we dress, the food we eat, the things we watch or listen to, and the way we generally spend our day. If you sit around for the entire time in your pyjamas, it may start to affect your mood; this, before long, could have a negative impact on your mental wellbeing.
Jane, an administrative assistant, admits, "I did spend the first few days on the couch, in my sweatpants, trying to work. But the truth is, I couldn't complete a single task and never felt like I actually finished work. Now I keep my schedule the same as before the virus and have a special place by the dining table to work. The clothes I wear help me a lot."
Special occasions
On the other hand, for some people, dressing up serves as a way to mark a special event – quite the opposite to restoring or maintaining the routine.
"My wife and I love to go out and have dinner in a nice restaurant from time to time. I know it's not the top priority now, but we felt really sad we couldn't do it. So, last week, I came up with an idea to prepare a fancy dinner at home. She wore one of her evening dresses, I took my suit out of the closet, and we ended up having a great time. It felt like being in our favourite Italian restaurant!"
That's what Mark, our sales specialist, told me - and I think it's a brilliant idea! I wanted to find out why some people dress up while being on lockdown, and it turns out that one reason may be the same as before the coronavirus crisis hit - they just want to look nice for important or special occasions.  
Personality
There are various ways for a person to express their character, and clothes is one of them. If somebody is passionate about fashion and puts a lot of effort into his or her outfit every day, then it could put them in a terrible mood if they feel there's no reason to do so; that's why it's important to keep dressing up - even at home! Tom, a designer I talked to, dresses up each and every day.
"Clothes are my inspiration, and my daily outfits stimulate my creativity. No matter if I go to my studio or stay home, I just like the time of the day when I open my closet and choose what to wear."
Support
Finally, a strong motivation for wearing fancy clothes during the lockdown is the willingness to support favourite brands. It's a challenging time for all businesses, but small companies and artisans will probably suffer the most. You can help them by buying their products online if they have this option. Failing that, you might as well appreciate their work by wearing the clothes you already have!
Many famous people and influencers use their social media to support the brands they like. They dress up at home and share photos of it on their profiles. This way, they not only encourage others to buy these clothes, but also spread the word about the brand. It's great advertising and will certainly help these companies once the pandemic is over.
As you can see, there are many reasons to dress up during the coronavirus crisis. For some people, it's a way to stay focused at work; others try to follow their regular daily routine or support favourite designers and shops. No matter the motivation, dressing up always boosts a person's morale. Wearing nice clothes puts us in a good mood, so why not try it now while we have the chance to stop and try different things? Believe me, even half an hour in an elegant three-piece can be very uplifting!