What Does Your Suit Colour Say About You?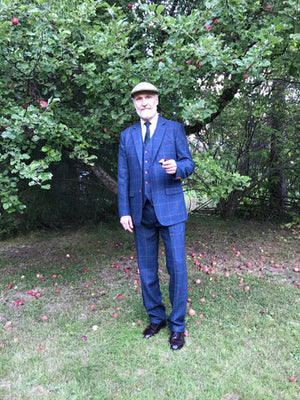 Did you know that there is a psychological theory behind colour in fashion? That's right. The colour of your clothes have a deeper meaning to how they appear at first glance. 
Colours aren't just there to look good. They actually evoke emotional and physical responses from those around you. It all ties into how others perceive you and how they form their first impressions of you.
That's why when you're shopping for a suit, it's important to consider the colour, just as much as the cut and fit!
So, my friend. Now that you're aware of the critical aspect that colour plays within your suit collection, let's look into each colour and what it communicates about you - without you ever having to say a word. 
Navy suit
When you think of navy suits, then an image of a businessman or perhaps even the Prime Minister may pop into your mind. 
Navy suits give an air of authority and power. If you're dressing for an important business meeting, pitch, or job interview, then we'd recommend donning a navy blue suit.
As soon as the other party sees you, they'll automatically perceive you to be more of an authority figure.
Black suit
Black would be considered as the most formal suit to wear. There's a reason that the 'black tie' dress code is considered to be so formal, after all. 
Similarly to the navy suit, wearing a black suit inspires confidence in those around you. 
If you're heading out in the evening, on a hot date or to entertain some business clients, then a black suit may be your best bet. 
Grey suit
Wearing a grey suit suggests that you're experienced and know exactly what you're doing. It's more laid back than a black or blue suit, though it looks just as good. 
Grey goes with pretty much any other colour, allowing you to tweak your grey suit for certain occasions. For example, you could wear a black tie to make it more formal, or a pink tie to create a more fun and casual look. 
If you wore your navy suit to the first interview and would like to wear another to the second, then opt for grey. It's also a lovely choice to wear to weddings - groomsman or guest! 
Red suit
Looking to make a statement? Then a red suit is a no-brainer. 
The colour red suggests passion, romance, boldness, energy and strength. We've been seeing more and more grooms wearing red as the colour of their wedding suit, which is very fitting for the occasion. 
Red suits look fantastic paired with blue, pink, orange, grey and brown tones. Heading out to a cocktail party, or work in the entertainment industry? A red suit will have every eye fixated on you. 
Green suit
Green is a calming colour that's very easy on the eyes. It therefore makes sense that wearing a green suit helps people to feel more comfortable and relaxed around you, compared to a navy or black suit.
If you're wearing a suit outdoors, green naturally fits right in - because it's the colour of nature, of course! Pair your green suit with yellow, brown, or grey tones to achieve that perfect, tied together look. 
If you're meeting new people for the first time, then you may wish to put on your green suit! It will subconsciously make you seem more approachable and help you to build rapport with those around you. 
Let your tweed do the talking
Looking to make an impression with your next suit? Available in a spectrum of colours, your next tweed suit awaits you at Tweedmaker.