Which Linen Suit Colour Suits You?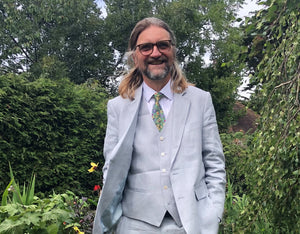 When it comes to choosing a linen suit, are you drawn to navy or are you more of a cream suit kinda guy? Maybe you've noticed that some colours look good on you, while others make you look washed out. The reason for all this could be related to colour theory. 
Colour theory works on the principle that we all have a "colour season".  As we explained in this article about choosing a tweed suit colour to complement your season, colour theory divides everyone into the seasons of the year based on eye colour, hair colour, and skin undertones. 
Let's take a look at how to work out which colour season you're in and which linen suit colours work best for that season. 
Figuring Out Your Colour Season
The first step to choosing a linen suit that complements your natural features is to figure out your colour season. 
To make it simple, the four distinct options are based on the four seasons. These aren't based on your favourite time of year or when you were born, but rather the seasonal classification of your natural colouring:
Spring — Men in the spring colour season have warm almost peachy undertones to their skin, light hair, and light eyes. Famous male celebrities in the spring colour season include Robert Redford and Owen Wilson.
Summer — You're likely in the summer season if you have light eyes, cool undertones, and little colour contrast between your skin and hair. Famous summers include Micheal Ealy and Daniel Craig.  
Autumn — Men in the autumn colour season have a golden tone to their skin and hair and rich green or brown eyes. Famous autumns include Ryan Reynolds and Javier Bardem. 
Winter — The winter colour season is defined as cool yet dark, with men in this category often having olive undertones to their skin and deep eye colours. Famous men in the winter season include Denzel Washington and Pierce Brosnan. 
The Best Linen Suit Colours for Your Season
Your suit colour says a lot about you. Once you're dressing in harmony with your colour season, the message will be loud and clear — you know which suit colours look best on you and you feel extra confident wearing them! Here are the best linen suit colours for each season.
Spring
Clear, light features and warm undertones mean that men in the spring colour season look great in lighter colours. Cream, white, and light blue linen suits will always be classic choices for complementing your natural features. But, if you want something a little different, you'll find that this lime green linen suit and this pink linen suit will both work well with your colouring.
Remember, this doesn't mean that you can't wear darker colours. For example, Owen Wilson's spring colouring means that he looks great in the cream suits he often wears. But he can also pull off darker suits. His secret? Breaking things up with a crisp white shirt. 
Summer
The cool undertones of men in the summer season mean that they look best in steely shades of grey and blue. This grey-blue linen suit is a must for anyone in the summer season, while a light blue linen suit or this blue and white stripe suit are sure to complement your natural coolness. 
Other light colours such as cream and pale grey also work well for those of you in the summer season. And, as you'll notice on celebrity summer Daniel Craig, pairing a light grey or light blue shirt with a darker suit is the best way to play up your cool undertones. 
Autumn
While a brown or olive green tweed suit is a classic choice for autumn men, it can be trickier to work out what linen suit colours look best. 
The warm undertones of this cream linen suit mean that it's a complementary shade for men in the autumn season, especially when accessorised with a green or brown tie. And, although a dark navy linen suit or this navy pinstripe linen suit might not be obvious choices, navy pairs well with shades of brown and tan, making it ideal for bringing out your naturally rich, warm tones.
Winter
If you're in the winter colour season, your deep yet cool colouring means that you'll look best in this dark navy linen suit, while dark grey, blue-grey, navy pinstripe, and classic blue are all excellent alternative options for bringing out your deep features while complementing the cool undertones of your skin. 
Now that you know your season and what looks best on you, it's time to put your newfound knowledge into practice by shopping Tweedmaker's extensive selection of linen suits!