Dapper Wedding Looks for Your Big Day (+ X Suit Fashion Ideas)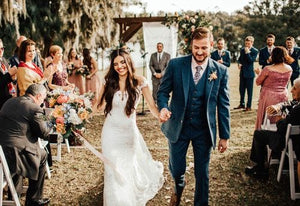 A dapper gent dresses to impress whatever the occasion. But when it comes to your wedding day, it's time to raise the bar. 
It's imperative you look and feel good on this momentous occasion. You'll be remembering this day for many happy years to come (and looking back at those wedding photos too).
So how can you ensure you're at your absolute best for your forthcoming nuptials?
A sharp tweed suit and the right accessories make a winning combination. They'll make you look and feel every inch the modern gentleman you are.  
If you're not sure where to start for this most important of sartorial choices, read on to discover our wedding suit fashion ideas and tips.
Tweed wedding suit fashion ideas
There's no definitive way to style a tweed suit for your wedding. You can personalise your look to you and whatever you have planned for the big day.
Choose from a variety of different suit colours and patterns. Pick and mix items from your three-piece. Then accessorise like a pro.
Whatever season you're getting married in, whatever colours feature in your scheme and whatever the wedding venue, there's a tweed suit to complement.  
Here are just a few ideas for tweed suit fashion and wedding attire.
Go all-out classic
Want to look buttoned up and super sharp? Opt for a matching three-piece suit and tie. This classic wedding look just can't be beat.
And because you're wearing a three-piece, your look is really adaptable too.
Your attire should be on point for the ceremony and drinks reception. But you can always go down to your shirt sleeves and waistcoat when it's time to eat. Or later, when it's time to party.
Be bold with colour
If you love a bit of colour, you don't need to stick to the blues, greys and blacks of traditional wedding suits.  
Tweed suits come in a wide range of colours. So why not opt for red? Or green? Or a more casual and rustic brown?
As long as you're in keeping with your wedding colour scheme, there's no reason to play it safe with your suit.
To match or not to match?
Wedding tradition states that a groom and his groomsmen should wear matching suits. But a modern gent isn't afraid to turn tradition on its head.
It's your big day. Interpret suit fashion your own way.
If you want to stand out from the crowd, choose a suit in a different colour from your best man et al. You can even mix and match elements of your own suit by choosing a waistcoat in a contrasting colour.
Opt for alternative neckwear
Ties look amazing with tweed suits and can be used to pick out colours within your wedding design scheme.
But there are lots of alternative neckwear options to choose from if a classic tie isn't calling to you.
We've seen grooms rocking bow ties and patterned cravats. And a statement shirt collar can even replace the need for wedding neckwear altogether.
Keep your look cool and casual
Planning an informal wedding? Or worried about sweltering in your tweed during a summer ceremony?
Don't feel tied to every item in that three-piece suit. You can ditch the jacket and wear just your waistcoat over short sleeves. Wear a tie or go super relaxed with an open collar and rolled-up sleeves.
Some of our grooms have also opted for a more traditional get-up to contrast with groomsmen who have simply worn tweed suit trousers, white shirts and suspenders.
Don't forget those all-important suit accessories
It's the little details that can really make or break your wedding look. Check out the following suit fashion accessories and consider adding them to your wedding attire.
Boutonnière
A wedding boutonnière is also known as a buttonhole – the flower some grooms wear in the lapel of their suit.
If you're incorporating a buttonhole into your wedding wear, consider the colours. You may want to ensure your neckwear and even your suit complement your florals.
Pocket square
A pocket square is another great way to enhance the wedding colour scheme – and get you looking super sharp.
Pick a pocket square that complements your shirt and tie, but doesn't necessarily match either of them exactly.
Headwear
Your wedding day is a chance to express your personality and individual sense of style. So why not don your headwear of choice?
A tweed flat cap brings a vintage air to proceedings. But we've also seen grooms looking sensational in bowlers and trilbies.
Shoes
It's a good idea to pick out your suit before you go wedding shoe shopping. It makes finding the perfect pair so much easier.
And don't let your wedding shoes be an afterthought. Whilst some grooms prefer their footwear to blend into the background, others wear a statement shoe to great effect.
For example, some shades of brown shoes can make the umber coloured buttons on our suits really pop.
Pocket watch
The final finishing touch you can add to your wedding suit is a pocket watch.
Just attach the chain to your waistcoat and pop the watch in your waistcoat pocket for the ultimate in classic wedding day style.
Looking for a tweed suit for your wedding day
Here at TweedMaker we've helped many a groom find the perfect tweed suit for their wedding day. You can be confident that any of our exceptionally crafted tweed suits will have you looking your absolute best.
Choose from a variety of colours and patterns. Then pick out your shirt and accessories. From pocket watches to newsboy caps, we can provide all of those wedding suit must-haves.
We also offer a wedding suit service that makes your life that bit easier. We provide easy-to-understand measurement forms and can send suits out to multiple addresses.
We also understand that weddings can be expensive affairs so we offer bulk buy discounts when you purchase suits for yourself and your groomsmen.
Browse our suit collection and find the perfect fit for your big day.