Head-to-toe styling tips for a blue tweed suit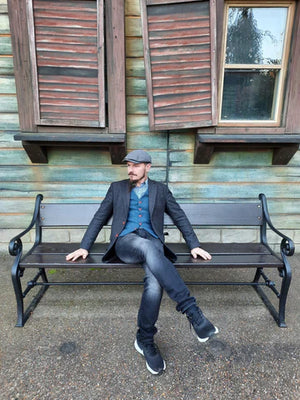 Though black and grey suits will always be fashion stalwarts, the humble blue suit has been gaining popularity in the last decade. Whether you wear sky blue linen for a daytime wedding, opt for navy wool at a black-tie affair or don a crisp blue tweed for a day in the office… a gentleman simply can't go wrong with a blue suit!
The key is knowing how to style it. While black suits are easier to pair with a variety of shirts, ties, shoes and pocket squares, styling a blue suit takes a tad more planning. 
That's why we've decided to share this styling guide for blue and navy tweed suits –– read on to find out how to make it work for you and craft the perfect look for any occasion! 
How to style a blue tweed suit (informal)
 Say you've found a stunning blue tweed suit for an upcoming engagement party. The theme is cocktail wear: you don't want to go too formal but you also can't be too casual. How do you strike that delicate balance?
It's all about the colours you choose for your trousers and shirt. Darker colours will give your suit a more formal edge, so if you're dressing down aim for something lighter. 
If you want to look dapper but not too formal, try your blue tweed with a sharp navy button-up shirt and beige chinos. Skip the accessories like ties or pocket squares to emphasise the casual elegance of the look. 
The combination of blue, navy and beige creates a nice contrast that isn't too off-putting, resulting in a fashionable and polished look. 
How to style a blue tweed suit (formal)
While chinos and a suit jacket are great for afternoon functions, if you're heading to a more formal affair –– like a black tie wedding or one where you're a groomsman –– you'll definitely need a more dressed-up look. 
Here's where you should stick with a whole suit, rather than mixing and matching your tops and bottoms. Consider a three-piece navy tweed suit with a waistcoat, for a suitably dapper option. 
Because your suit is so monochromatic, you can really lean into experimenting with your accessories. Let's explore the best shirts, shoes and ties to pair with a navy tweed suit. 
What colour shirts go with a blue tweed suit?
Really, you've got four options here: white, blue, pink or black. 
White shirts can be paired with a bright tie for a really eye-catching look, or with a tie the same colour as your suit if you want something more understated. 
Blue shirts create a sleek, refined look. Your best bet is to choose a blue the opposite shade of your suit: light blue with a navy suit, or dark blue with a lighter suit. Avoid checked or patterned shirts as your tweed already has that natural texture. 
A blue and pink combination is always a wise choice, as the two colours complement each other for a bold look that isn't overpowering. Pink shirts can really go with any tie –– patterned, navy, black or even white. 
A black shirt under a blue tweet suit is a classic option, particularly with navy or dark blue suits. Keep your tie choice similarly dark and muted to match the rest of your vibe. 
What colour shoes go with a blue tweed suit?
The right shoes can really knit your whole look together, so it's important for a gentleman to consider what he's wearing on his feet.
Brown shoes are always the best option for blue suits. But the one thing to keep in mind: as the suit gets darker, so should the shoe. That is to say — light blue suits should be paired with tan shoes, while navy suits will look far better with dark brown shoes.
Don't forget to always wear a belt that matches the colour and shade of your shoes! 
As always, if you're in the market for a navy tweed suit, Tweedmaker should be your first port of call. All of our suits are custom-made with the highest-quality tweed, for a superb fit that'll last decades. Check out our online catalogue to explore our range of tweed suits now!