How to Dress Up Your Suit on Your Wedding Day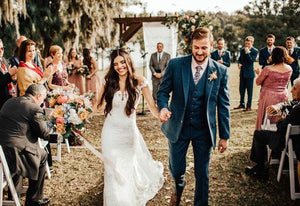 Your wedding is one of the most important days of your life, regardless of whether you're the bride or groom. Typically, much of the focus falls on the wedding dress and traditions centred around the bride. 
But every groom needs a little love, too. Can we get a hearty "I do" to that?
That's why we're here. Join us on a journey through modern men's wedding fashion, as we explore the ways you can add the finishing touches to not only your suits, but have a little fun with your groomsmen's outfits too. 
How to accessorise your wedding-day suit
Gone are the days when men and their groomsmen wore plain black suits. Nowadays, we have the option — and inspiration — to inject some fun and personality into our wedding attire, the same way our brides do. Let's take a look at how you can dress up your day to better match your personality. 
The classic three-piece suit
There's nothing more classy and elegant than a three-piece suit. And your wedding day is the perfect time to wear one. Donning a suit jacket, waistcoat and trousers is as formal as you can get. But of course, formal doesn't mean stuffy or boring! You can always play with various and surprising colours, patterns, and materials to brighten things up at the altar. 
Matching ties and socks
If you're hosting a more traditional wedding and want to stick to a classic black suit for your big day, there are still ways to bring your own flare to the day. Eschew the black tie and socks combination, and instead choose a matching pair in a bright colour or pattern – the sassier, the better. 
Incorporate your wedding colours
Want to add a splash of colour to your suit but not sure what hue would be more cute? Look to your ceremony and reception decor for inspiration. This will result in a smooth, cohesive look that'll really pop in your wedding photos. Having a tie or pocket square the same colour as your bride's bouquet is a simple but stunning way to say "We're together." 
How to accessorise your groomsmen
Whether you've got a single best man or a group of ten groomsmen, their outfit choices are just as important as your own. You want to look like a coordinated team, not just a bunch of men in random suits.
Matching suits, sort of
This is a classic option. Choosing the same suit for each of your groomsmen is a striking look, both at the altar and in photos. But more and more, grooms are opting for a more casual group look –– like similar suits in slightly different shades. 
For example, a rustic country wedding could have suits in different greens, while a contemporary city wedding may embrace blues and greys. Letting your groomsmen choose their colours is also a great way to make them more comfortable and feel involved in the planning. 
Matching elements on different suits
For a more casual wedding, you could even let your groomsmen go rogue and choose whatever suit they want –– but use key elements to unify your look. 
Your options for matching elements are endless, such as:
Patterned socks

Custom suspenders

Custom belts

Buttonhole flowers 

Cravats or bow ties

Hats

Pocket squares

Cufflinks
What fabric should you choose for your wedding suits?
Your choice of suit should be informed by your wedding dress code, location, season, and colour scheme. Yet, there are still more options out there for your suit than you may expect. 
If you're a true gentleman, you know that there's no better choice than tweed on your wedding day. The epitome of class and elegance, a tweed suit is perfect for any occasion. And we're not just saying this because we love tweed here at Tweedmaker HQ!
We know the fabric inside and out, literally, and are here to make your wedding day tweed dreams come true. With made to order suits in quality tweed, you'll spend your wedding day feeling comfortable and looking incredibly dapper. 
We've also got a range of accessories to elevate your suit game, from ties and hats to vintage suspenders and cravats. Whatever you need for your wedding day, we've got you covered. 
View the TweedMaker range of tweed suits and accessories here.