What is Worsted Wool? (+ 3 Outfit Ideas for Your Wardrobe)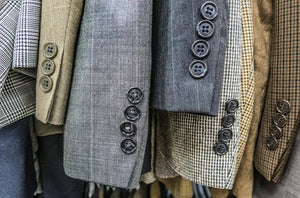 If there's one thing we love here at Tweedmaker, well it's tweed. Naturally.
So, we hear you cry…what's all this about worsted wool!? Kindly allow us to explain.
Tweed is undoubtedly a fine fabric for the modern gentleman. Endlessly versatile, durable, breathable and of course, elegant ー it's adaptable to country and city life. 
Nonetheless, variety is the spice of life ー and there are so many wonderful sartorial embellishments to a tweed wardrobe.
Chief among them? You've guessed it…we'd recommend worsted wool. In this brief introduction, we explain the benefits of worsted wool and some inspiration for your own wardrobe.
Shall we?
What is worsted wool?
Worsted refers to a specific type of fine, smooth wool yarn. It's used for a multitude of different weaves, from herringbone to cavalry twill, gabardine and serge. The name derives from the Norfolk village of Worstead that was one of the first centres of production.
To provide the briefest of history lessons, this all began during the twelfth century. During the late Middle Ages, Flemish textile weavers settled along the Norfolk coast, bringing their knowledge and expertise. England's new system of enclosures also resulted in better-fed sheep and longer wool ー perfect for weaving.
The benefits of a worsted wool suit
So, it's clear that worsted wool has history.
If you need any more persuasion, here are just some of the benefits…
Resilience

– worsted wool is known for its resilience. It's a fabric that springs back to its original shape. This is perfect for suits, as it rebounds quickly and lessens wrinkling if you've been sitting at a long dinner party or that all-important meeting.

Weather-proof

– the fine fibres are excellent for anything the British weather can throw at us. Whether it's wind, rain or glorious sunshine, worsted wool is a perfect choice. Its fine fibres trap air, insulating the wearer. In summer, the fabric serves as a wonderful natural, breathable option.

Individual elegance

– utilised for so many different weaves, worsted wool allows for both light and heavy-weight suits in all manner of patterns and colours. Whether it's

dapper pinstripes

or

light blue hues

, the worsted woollen world's your oyster…
3 outfit ideas for the modern gentleman
The "broken" suit
Menswear connoisseurs have long referenced the term "spezzato" (literally translating as broken). This refers to the inimitable style of Italian men, known for their ability to split up a suit. 
They effortlessly pair trousers from one outfit with the jacket from another to make a strong style statement. For laid-back charm, opt for tones that are complementary yet noticeably different.
Elevated casual
Even if you've purchased a stunning three-piece suit, there's nothing to say it only has to come out for weddings and formal events. Why not pair your worsted wool suit jacket with jeans or chinos? Especially during the summer months (think garden parties or romantic picnics) it brings that extra bit of elegance to casual outings.
Formal dinner dates
If you're attending a formal dinner (or even a romantic dinner date), any sophisticated chap knows this is the time to step-up the style stakes.
You simply can't go wrong with an understated worsted wool blazer, waistcoat and trousers in muted, coordinating colours such as blues and greys. This keeps your look grounded yet elevated, so the focus will always be on your sparkling conversation. For a pop of colour, a contrasting tie or pocket square brings the look together.
Worsted wool suits for any occasion
With a sophisticated range of worsted wool suits in blue, light grey, charcoal and pinstripes, explore our collection today.
At Tweedmaker, we believe every gent deserves to look and feel their best, no matter what the occasion. If you have any queries about expanding your wardrobe or purchasing a truly special suit, get in touch. We'd be delighted to advise, and of course – remain always at your service.