How to Pick Out and Style the Perfect Winter Suit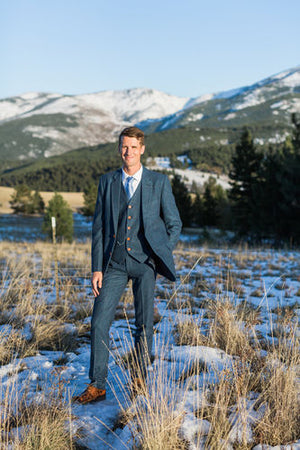 Winter is well on its way. So what does that mean for the stylish man about town?
It certainly doesn't mean layering up at the expense of sartorial style. As long as you have a trusty winter suit or two hanging in your wardrobe, you can stay snug and snappy no matter how low temperatures happen to plummet.
But what should you be looking for in a stylish winter suit? Here are a few factors to consider.
Fabrics
Easy, breezy cottons and linens – the staples of summer – have no place in a winter wardrobe. Now is the time to opt for warm but breathable fabrics, like wool.
As our ancestors discovered tens of thousands of years ago, there's nothing quite like wool for keeping the cold at bay. And nowadays, you can find a variety of warm, refined and lightweight suits made from beautiful woollen fabrics.
Worsted
Worsted suits are made from worsted wool. Worsted is constructed from longer fibres and finer yarn than traditional wool. The end result is a much sleeker fabric than your standard woolly sweater. A suit made from worsted has an incredibly smooth, high-end finish.
Tweed
Tweed is made from woollen fabric that hasn't been carded and smoothed like worsted. This gives it a fuller, thicker appearance. Tweed suits have a beautiful texture, which is what makes them feel more characterful and less corporate than worsted.
Flannel
Flannel shirts are often made from cotton. But flannel suits are also available in woollen varieties. This material was popular back in the 1950s and it's making something of a comeback.
Flannel can be stiff and structured. But it's often soft and has a fuzzy texture that can make it an informal and versatile option for winter suits.
Corduroy
Corduroy may make you think of your high school geography teacher. But cord suits – with their slouchy style and retro vibes – have graced catwalks and red carpets increasingly over recent years.  
Cord is a thick material that insulates well and is at its warmest when made from a cotton and wool blend fabric.
Cashmere
Want to really push the boat out? Cashmere wool comes from cashmere goats. It's incredibly soft and lightweight, and as one of the most luxurious wools around it tends to be at the pricier end of the scale.
You'll often find suits made from a cashmere blend. But anything containing cashmere is likely to provide a lot of warmth for its weight.
Construction
The way a winter suit is put together will affect its warmth and style rating.
Don't waste time with any winter suit that isn't fully or partially lined. That extra layer is a mark of quality and it can make a real difference when winter begins to bite.
In addition, the perfect winter suit should balance weight, warmth and tailoring to perfection. A suit should be warm. And jackets should allow enough space for a layer or two underneath.
But a well-made winter suit should never feel heavy. It should be lightweight and streamlined enough for you to throw on an overcoat on frosty mornings.