How to Style a Newsboy Cap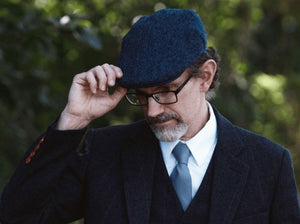 Forget your usual beanie and baseball cap. This Fall season, it's all about the newsboy hat, which is also quite similar to a flat cap.
As you've probably guessed, the newsboy hat is named after the newspaper boys who famously wore it in the early 20th century. Newspaper boys were, however, not the only ones who would regularly wear it. Newsboy hats were also widely worn by dockworkers, famers, tradesmen, steel workers, artisans and even bandits. In fact, it wasn't only worn by working class men, but by men of all social classes. The men of the upper classes often wore newsboy hats for leisure and sporting activities. The accessory later also became closely associated with drivers and golfers. Now, all these years later, the newsboy hat is still very much a part of men's fashion. When styled right, the timeless style is the perfect accessory to complete your Fall wardrobe.
First thing's first. Before you step out in a newsboy hat, make sure you have one that actually fits you well. You could say that a newsboy hat is somewhat like a baseball cap but with a fuller crown area. Although, unlike a baseball cap, it does not fit snugly on the top of the head and has more fabric. However, you definitely do not want to wear a newsboy hat that's way too big for your head that you end up having too much loose fabric at the top. Your hat will then resemble a flattened toque rather than a stylish newsboy hat. On the flipside, you also don't want one that looks too small and fits too tight.
Once you have the perfectly fitting newsboy hat for the size of your own head, you'll want to style it with your fall outfits. Most newsboy hats come in tweed, which is the perfect fall fabric that will keep your head just warm enough. Wearing a tweed newsboy hat in the height of summer, paired with your warm weather attire will just seem out of place. While a newsboy hat can go with many different outfits, they work best with transitional weather looks and Fall fashion.
You can't go wrong with pairing your newsboy hat with casual trousers of chinos, a sweater or cardigan over a simple shirt. You can also choose to add an extra dose of style to your standard jeans, button down or t-shirt and chunky sweater look with a chic newsboy hat. A newsboy hat looks great with almost any jacket and coat, whether it be a bomber jacket, field jacket, trench coat or overcoat.
For a more smart casual outfit, you can, of course, pair your newsboy hat with a sport jacket or a suit jacket. However, unless you're out in the country, where a full tweed suit and trousers outfit is perfectly acceptable with a newsboy hat, you may want to proceed with caution when donning the full outfit in the city. It's a fine line between looking stylish and looking as if you stepped out of the Peaky Blinders set in costume.
Now that the weather is definitely getting chillier, slip that coat on, wrap that scarf around your next and top it all off with a classically elegant newsboy hat.