Most Popular Tweed Patterns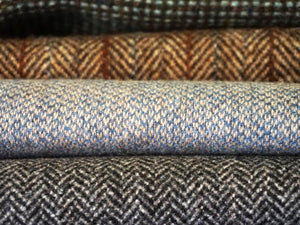 Think of any quintessential country outfit and surely a tweed look is one of the first that will come to mind. However, tweed is far from just a countryside wardrobe staple. Numerous garments and accessories from coats and suits to vests and hats can be made of tweed. The rough, twill fabric does not only come in a variety of colors but is also created in a number of different patterns. There is no shortage of styles and patterns to choose from in order to create the perfect tweed look, whether you're spending time in the country or stepping out in the city.
Arguably the most popular type of tweed is the Harris tweed. In fact, it's not only popular but also historic. It's actually a legally protected type of tweed. In order to be labeled a Harris tweed, the fabric has to be specifically made in the Outer Hebrides, off the northern coast of Scotland. The Harris tweed alone is available in over 600 types of patterns. With so many to choose from, it can certainly seem daunting and get quite confusing. To help you navigate the choices you have when it comes to your tweed garments, here's a brief guide with just some of the most popular tweed prints for you to choose from.
Plain Twill
Before diving into the many different variations of tweed prints, it's important to remember that plain tweed does exist and can be just as fashionable. You can opt for a pattern-less, plain twill tweed that has the quintessential tweed texture.
Prince of Wales
The Prince of Wales print, also known as the Glen check, is one of the most popular prints for both men and women. The pattern is composed of two light colored stripes alternating with four dark and four light stripes. As the name suggests, the cross pattern of irregular checks is largely popularized by the previous Prince of Wales, Edward VII. This pattern can come in a variety of eye-catching and classic color combinations.
Herringbone
Your Fall/Winter wardrobe will not be complete without the eye-catching herringbone pattern. The Herringbone pattern is characterized by columns of slanted parallel lines, with the lines on each column alternating in direction and creating a v-shape. Herringbone patterns can be subtle or bold, depending on the width of the columns and angle of the slanted lines.
Windowpane
It won't come as any surprise that the windowpane pattern resembles a windowpane. It features thin vertical and horizontal stripes that are all symmetrically spaced and woven against a contrasting color. It's a subtle yet stylish pattern that works great for suits and trousers. It works perfectly when worn with either a matching patterned vest or a colored vest that matches the thin stripes.
Plaid
As with the tweed fabric itself, the plaid pattern also originates from Scottish culture. It comes in a wide range of colors and patterns, with many of them specifically associated with a Scottish clan's identity. Plaid itself is largely used to refer to fabrics that feature diverse combinations of intersecting horizontal and vertical lines, creating different sized squares and checks with the lines designed in varying colors.
Of course, this is just the tip of the iceberg when it comes to all the different tweed prints but it's a good start to give you a better idea of how each can complement your personal style.