How to Wear a Tweed Suit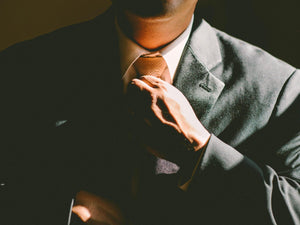 Tweed is a unique style of material which often makes men a bit afraid to buy tweed suits. Unsure of how best to wear tweed, many men imagine themselves dressed in an odd-looking or old-fashioned suit. However, they couldn't be more wrong; the key with the tweed suit is just knowing how to style it properly.
I've prepared a few tips on how to wear a tweed suit and a few examples of celebrities stylings to inspire you. Ready? Okay, let's go!
Guide on how to wear a tweed suit
When I was preparing this article, my goal was to create a short list of straightforward tips on how to wear a tweed suit. Therefore, whenever you're in doubt, you can just open this up, have a quick look and know what to wear straight away. I want to give you the tools to have confidence in tweed styling, whilst also not forgetting about the comfort aspect of this type of clothing. That is the most important piece of advice I'd like you to take from this article: comfort means confidence. Your tweed suit should be made of high-quality fabric and it has to be in the right size. Only then will you feel great wearing it.
Having a well-fitted tweed suit in your closet, it's then time to think about the styling.
Choose the tweed suit in a colour that you like, and make sure that it matches the purpose you're going to wear it for. To be able to wear the suit in a relaxed, confident manner, it's crucial that you like the colour. However, it is worth considering that the colour needs to be appropriate for the occasion. For example, if you're going to use your suit for work purposes, we'd advise against using red because that would be seen as too extravagant!
Match colours and patterns of accessories with the suit. When it comes to the colour, you have two options. Either stick to one colour and choose different shades of it, or go for contrast. I believe the second option is a better choice – especially when you're just beginning to use this kind of style. However, don't overdo it! Shoes and belt should match, and the tie should be darker than the shirt. When it comes to patterns, there shouldn't be too much. If the suit has a pattern, the shirt should be plain - and vice versa.
The presentation is very important. Make sure to always have the suit clean and ironed (check the label to know how to do it correctly).
Don't be afraid to use the suit for different occasions - and don't feel that you need to wear every part of the suit, every time. A tweed suit can make a great impression at a formal meeting, as well as looking fantastic on a night out with friends; It all depends on how you style it. With a tie and white shirt, it's more elegant, while without a waistcoat and with a tweed cap, it's more casual. You don't need to always wear the waistcoat. If you don't feel comfortable in it, or you think the 3-piece is too formal for the occasion, feel free to leave the waistcoat at home.
Get inspired by celebrities
Bet on a classic look
Let's start with two English gentlemen – Film director, Guy Ritchie, and  football player and businessman, David Beckham. They both present here what we would call a classic look. Their outfits are simple but, as we all know, in many cases less means more. If ever you don't feel confident about the colours or accessories that could match the suit, stick to the classic combinations. Tweed, as a fabric, is very unique in itself, so if you don't have experience in styling it, there's no need to try and make it more original.
Guy Ritchie chose a check tweed suit and decided to go for the all-grey look. You can see different shades of this colour in his outfit - from the light-grey tie to a slightly darker suit, with the darkest shade being used for the scarf. The contrast is very subtle and all the parts perfectly complement each other. You'll notice that the classic, white shirt and pocket square don't interfere with the rest of the look. The whole outfit is elegant and timeless. It's a great example of how to bring the beauty of a suit to the forefront.
Here's another classic styling. David Beckham went for a very well-fitted, light-brown 3-piece suit. Like Guy Ritchie, he decided to choose the tie in the same colour as the suit. However, the contrast here is more visible. A dark brown tie stands out from the classic white shirt, but at the same time works perfectly with the suit. A white pocket square adds even more charm, while the leather bag makes the whole look slightly more casual. It's a great example of how the accessories can create the outfit.
It's fine to separate the tweed suit elements
I've mentioned before that parts of a tweed suit can look perfectly fine when they're separated. Time to prove that statement!
Justin Timberlake | Donald Glover
On the left, Justin Timberlake gives us an excellent example of finishing the outfit with a tweed jacket. He smoothly mixes the dark-blue colour of his shirt and trousers with the brown coloured jacket and shoes. The whole thing looks casual but, at the same time (thanks to the tweed blazer!), smart enough for a red carpet event. On the right, Donald Glover shows how to pair tweed trousers with an elegant sweater. While the trousers are plain, the sweater is what makes the outfit original - thanks to its pattern. There's no need to complement this combination with much more, so he just adds brown slip-ons with no socks. The styling seems to be perfect for a spring cocktail party.
Don't be afraid to experiment
Okay, you had to see this coming, right? After all the tips on how to make good, safe choices when it comes to styling tweed, I have to finish with a bit of extravagance. There's always an exception to the rule, and this time I have three of them! Of course, it doesn't mean you should forget about the classic style - just sometimes it's also okay to experiment if you feel confident enough to do it.
Rod Stewart | Johnny Depp | Jared Leto
You can pair a tweed suit with an extravagant accessory, as Rod Stewart has, or you can match a tweed coat with the bohemian look - like Johnny Depp. Alternatively, you could choose an eye-catching tweed fabric for your suit, as seen here with Jared Leto. Some people need to express their unique personality with clothes and, even though tweed is associated with a more formal style, it can also be creative and original if needed.
Hopefully, you'll now feel more confident about styling your tweed suit - and maybe you've even been inspired by our celebrities' outfits. I know tweed may seem like a difficult material to work with, but believe me it's not. It's a delight to wear and there should be no doubt in your mind when deciding whether to buy it. Choose a tweed suit for yourself and feel free to share your stylings with us - we'd love to see them!