Spring/Summer 2023 Trends for Men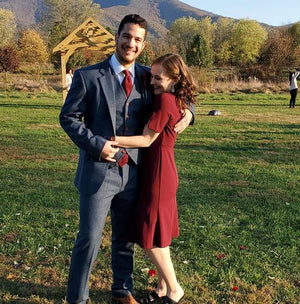 Trends may come and go, but true gentlemanly style is timeless. However, working the latest trends from high fashion into your existing wardrobe can be a refreshing way to wear your tried-and-tested pieces.
During men's fashion week, we saw a variety of brands showcasing their sophisticated new collections, giving a glimpse into the fashion trends for the year ahead. 
Curious to know which looks shall become particularly popular in men's style for the warmer months of 2023? 
We've noted the smartest trends to have made an appearance on the men's SS23 runway and would be more than delighted to share them with a fellow gentleman. 
What trends did we see at Fashion Week?
Think casual elegance with a fresh twist. The formal looks at men's fashion week were in full force, so expect to start seeing these styles around your upcoming social events. 
Knits
On the cooler evenings of Spring — and let's face it, there will be many — knits shall be a popular choice of attire. 
But don't go pulling out your Christmas jumper in May my friend. Instead, look for lighter colours to suit the season. Warm beiges, light blues, greens and reds are all good options to experiment with in your wardrobe. 
Depending on your preference, this may be a cosy knit jumper, or you may prefer to don a cardigan.
Traditional tailoring
Seen on almost every runway, men's suits are a must. 
You simply can't go wrong with a classic three-piece in the wardrobe — bonus points if it's tweed. And they aren't just for special occasions. It seems as though gentlemen are now opting to wear their suits as often as they can, having not had so many excuses over recent years. 
On those warm summer days, then it may be more comfortable to wear your suit trousers with a shirt, or perhaps a waistcoat. 
Trench coats
The trench coat is yet to go out of style. A favourite amongst gentlemen all over the world, the trench is a timeless classic, and as expected, it made more than one appearance on the runway. 
Sophisticated and versatile, you'll be pleased to know that your trench coat can continue to wow at all occasions, whether rain or sunshine. 
Matching bags
Whether it's your satchel, briefcase or duffle bag, the latest in men's style is to ensure that your bag matches your choice of clothing. 
Gone are the days that you'd use the same old bag for every look, my friend. Instead, look for the colours within your outfit and pick a suitable bag that ties it all together. 
Plaids and Checks
Though checks are another trend that's remained unwaveringly stylish, they're appearing more frequently throughout the SS23 collections in men's fashion. 
There are countless varieties of plaid and checks to choose from to suit your personal taste. If larger checks are your preference, then opt for windowpane, graph or buffalo. If you are more of a tartan or plaid gentleman, then take a look at argyle, black watch, or clan wallace patterns. 
Silk Scarves
On days when you would like to switch up your usual tie for something a little bit different, you could experiment with a silk scarf.
This exquisite accessory works perfectly to enhance a suit. Simply take the silk scarf, fold it in half and wrap it around your neck. Tie it in a simple knot and allow the rest of the material to hang as a tie would. 
The classic tweed suit
Not that we're biased, but the tweed suit is a wardrobe staple for men everywhere. 
It's a true look that prevails each and every year. From the winter right through into the summer months, tweed remains to be a favourite amongst the most refined of gentlemen. 
Browse our range of tailored tweed suits in a variety of colours to find the style that suits your taste.