Tweed Suit for Different Occasions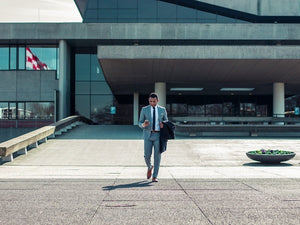 You probably have heard many times already that a tweed suit will serve you for years, that it's versatile and suitable for every occasion. But is it true that you can wear it for different events? I believe so! That's why in this post, I show you a few stylings for different occasions, all with a tweed suit as the main character. Well, the person is always more important of course, but you know what I mean, don't you?
Why is the tweed suit a must-have for every man?
As I mentioned already, the greatest thing about the tweed suit is that it's incredibly versatile. But before I give you examples of how to wear tweed on different occasion, let's find out what makes it so unique. 
Tweed is

suitable for different weather conditions

– you can wear high-quality fabrics in summer as well as in winter. Coming back to their origins, tweed outfits have been known as the all-year-round clothes. They are comfortable and breathable in sunny weather and keep you warm during cold and rainy seasons.

Tweed is

timeless

– trends come and go, but tweed suit invariably finds its place in designers' collections and men's closets around the world.
Dark Grey Tweed Suit | Olive Tweed Suit | Retro Plaid Tweed Suit
It's

extremely comfortable

– even though tweed is a quite thick and heavy material, it's very comfortable to wear. And when the size is well fitted, men say it's like a second skin.

It's

formal and informal at the same time

– I know what you think, how is that possible, right? But tweed really can match the occasion perfectly. Depending on the styling, it can be a good outfit for both family gatherings and formal business meetings. Let's see what other occasions you can wear it for.
Tweed suit as an outfit for different occasions
Formal event 
Tweed suit is perfect as an outfit for so-called special missions. Every time there is a formal event you need to attend, tweed suit won't disappoint you. Elegant reception, exhibition opening, prestigious gala, funeral, official meeting – they happen every once in a while. It's good to have a "go-to" suit that can save you in moments like these. A classic grey 3-piece suit or a dark grey one are elegant and neat and would be ideal to express the seriousness of the situation.
Wedding
In the past, the tweed suit wasn't associated with the groom's outfit. However, it has changed completely in the last few years. Couples often look for an original and unique style for this special day, and that's exactly what tweed suit represents. Depending on the character of the wedding, as well as the groom's approach, one can choose a classic suit or make it more extravagant with the cut and colour. In both cases, the tweed suit looks amazing as a wedding outfit. 
Recently, there's a strong trend of boho and rustic weddings and tweed suit fits perfectly into these. Especially when not only a groom wears it. Try pairing the retro blue check suit for a groom with a light brown herringbone suit for his groomsmen and you'll be amazed by the effect. On the other hand, it's equally adorable when they all wear the same outfit. Just take a look!
Business 
The tweed suit doesn't have to wait for a special occasion in the closet. If your job requires a certain dress code, tweed suit might as well serve as a business outfit in your everyday work. It's especially convenient if you need to attend many meetings in different places. Wearing a tweed suit, you'll easily adapt to different temperatures and weather conditions while changing locations and offices. qIn a brown check suit or a blue herringbone suit, you'll look professional but not overdressed. Complement it with an elegant watch and classic white shirt and you're ready for the office duties.
Casual
In general, men are convinced that a suit can be worn only for formal occasions. In the past, it was true, mostly because of the fabrics and cuts. In many cases, the suit was simply uncomfortable and wrongly fitted. No man could imagine wearing it all day. But the approach to suits has changed a lot. Nowadays, with high-quality materials and advanced craftsmanship, suits are easy to wear and more durable. 
That's why you don't have to change the outfit after work if you want to go for drinks with friends. Lose the tie and the waistcoat, and the tweed suit will look more casual. Don't be afraid to wear the grey herringbone suit for a Sunday picnic with your family or the red classic tweed suit for a date in a fancy restaurant. 
Can you wear parts of your tweed suit separately?
Full suit outfit is not everything a tweed suit can serve for. Its versatile character goes even further, as you can easily weave individual parts of your 3-piece suit into everyday styling. It's an excellent way to make an outfit a bit more elegant but not too formal at the same time. 
Tweed pants go great with a shirt and a sweater, while a jacket can be a nice final touch to a casual outfit. If you want to look original and show your unique style, add a tweed waistcoat to your everyday styling. The possibilities are endless so feel free to experiment. 
Tweed suit is a perfect outfit for every occasion. It's versatile, comfortable, and timeless. If you'd like to have one in your wardrobe, check out all the available models in the Tweedmaker shop. You sure won't regret it!