What Accessories Look Good with a Tweed Suit?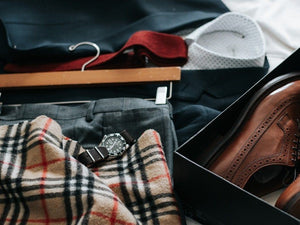 People say that a tweed suit looks so unique and classy, that usually a well-chosen shirt and shoes are enough to call it a perfect outfit. On the other hand, the tweed look can be nicely complemented if you add a couple of subtle, matching accessories. Here are a few propositions that I recommend for men who care about their style and want to stand out from the crowd.
Well-dressed man
Before we move on to accessories, let's talk about what a well-dressed man means. When it comes to casual outfits, the rules are pretty loose. I'd even dare to say that there aren't many. But in most cases, a suit is a formal outfit, so that's why we'll focus on that aspect today. There are some generally accepted rules that men who wear suits should follow to look classy. 
The most important guideline is: always choose well-fitting and comfortable clothes. And by that, I mean size, length of trousers, jacket or sleeves, and cut. A man in a well-fitting suit looks much better than one in a perfectly styled outfit which is two sizes too big. Let alone that when you're comfortable—you feel better, more confident and spread positive energy around. 
The choice of colours is also very important. Bet on safe, classic choices. Don't choose shoes and a suit in contrasting colours. Socks and belts should also match each other colourwise. Tweed itself is an original, eye-catching fabric so it's best to choose a shirt in a subdued, neutral colour - in doubt, you can't go wrong with white.
When it comes to the cut of a suit, although the trends are changing every year, I recommend that you trust the classics. A simple, elegant, classic suit is a good choice that will serve you for years.
Finally, a well-dressed man looks neat when he takes care of his clothes. So remember to wash and iron the suit regularly (according to the instructions on the label) and store it properly. 
Accessories that go well with a tweed suit 
Now that you know the basic rules and you've got a well-fitting and timeless tweed suit, take a look at the accessories that will add a little style to it. 
Let's start with the most common accessory —a tie. That's certainly the first thing that comes to mind. Most men have at least one tie in their closet, right? But the one we recommend to you today isn't just an ordinary tie, it's a woven tie. It looks very vintage and its texture and pattern fit perfectly with the specific tweed texture. It's available in several different colours, so go ahead and choose the one you like best. But keep in mind the rules of matching colours with the rest of the outfit! 
Woven tie
We have something for the slightly more courageous gentlemen too! This vintage formal cravat is a real treat for the fans of original designs and unusual solutions. With this accessory, you will attract the attention of both men and women. If you want to stand out with your outfit, this cravat will help you. It is an original and characteristic accessory, but at the same time, it's small enough not to overshadow the tweed suit itself. It's also worth mentioning its practical advantages – such cravat is much easier to put on than a classic tie and it also keeps your neck warm! The wide variety of patterns and colours will satisfy any stylish man, so don't hesitate to take a look at the options. 
Vintage formal cravat
Another way to add a bit of a twist to a suit is a pocket square. This accessory is smaller than the previous one, so it's perfect for those who only want a little bit of extravagance. The pocket square has always been associated with style, chic and elegance. The one I recommend today is made of silk, so believe me, it's as elegant as you can get! On the other hand, putting this little piece of fabric in your pocket is a great opportunity to personalize your look and express your individualism. 
Vintage silk pocket square
There's room on our list for one more accessory that you can put into your pocket. A pocket watch is something you certainly associate with a total tweed look, don't you? And you're absolutely right! What I am most impressed with is the fact that it's very old-school. It is hand-wound and it doesn't need batteries. And even though the watch itself, usually lands in a pocket —only to be pulled out from time to time —it comes with a stylish chain that lands on the top of the vest and makes for a beautiful accessory itself. This watch perfectly complements a tweed suit and adds this kind of English gentleman touch that all tweed fans look for.
Vintage pocket watch
This newsboy cap may seem like a redundant accessory for many of you. Indeed, it is not as common suit addition as a tie or pocket square. However, in our opinion, it is a real hit and it fantastically matches the tweed suit. Such a cap represents a timeless style and adds some twist to the whole outfit. Don't be afraid of this accessory! 
Gentlemen's newsboy cap
We left our favourite accessory for a dessert - suspenders! The suspenders are elegant and fun at the same time. It's a great combination! They are suitable for both, formal look and casual styling. Suspenders not only go amazing with a tweed suit, but they are very useful! They perfectly replace the belt and are much more comfortable. The ones we recommend are made of leather and cotton, which makes them durable and flexible. We are aware that many men have never used suspenders, but we guarantee that you will be delighted. Their style and comfort will convince everyone. 
Suspenders
We hope that you've found a few accessories in today's article that will match your suit. If you wish to buy any of them, you will find them in the Tweedmaker store. We strongly encourage you to complement your style with interesting accessories. They are a great way to contrast the classic clothes and express your personality!