Travelling in Tweed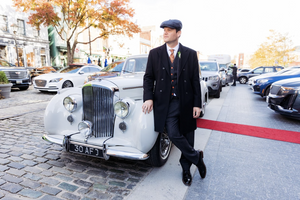 The summer is fast approaching, and with it often comes the desire to take a holiday. Whether you're planning a country escape, a city break, or a far-flung adventure, travelling in style should be the prerogative of any modern gentleman. 
For journeys long and short, comfort must also come into the equation. But, the good news is, when you have a selection of tweed suits at your disposal, there's no need to compromise on either comfort or style. 
While tweed might not be the first fabric that comes to mind when choosing travel attire, we're here to convince you of why you should be travelling in tweed. 
It works in all weather
Perhaps you prefer to head for cooler climes when the temperatures soar. Or maybe you're a dedicated sun-seeker. Either way, tweed is the ideal option for all climates and weather conditions. 
Going somewhere cold? Stay warm and dry with your tweed jacket and coat. Tweed is made from wool, a fabric that has been used for centuries as an insulating material. Wool traps heat inside its fibres to keep you comfortable without leaving you feeling too warm or sweaty. Tweed is also water-resistant so there's no need to let summer showers put a dampener on your plans or your look.   
Going somewhere hot? Tweed is also a perfect fit for the summer months thanks to its natural breathability and moisture-wicking properties. With tweed in your arsenal, you'll be ready for whatever Mother Nature has in store for you.
It gives you options
Another benefit of tweed is its versatility. Tweed is so easy to dress up or down, with just one suit you can be ready for any occasion or event, which is a must when you're travelling and every day is full of all kinds of different plans. Whether you're headed for a formal dinner, a stroll along the boardwalk, or even a destination wedding, tweed always works.  
There are so many options for how you wear your tweed, this one piece of clothing can provide you with a huge amount of styling options and different outfits. Tweed's versatility also means that it will work perfectly as a key piece in a capsule travel wardrobe, offering you endless styling possibilities without taking up too much suitcase space. 
It's comfortable
While travelling can be an adventure, it often involves spending hours in transit. Travelling in tweed ensures that you'll look and feel great no matter how long and bumpy the journey might be. 
With its many unique properties, tweed is one of the most comfortable materials around, and if your suit fits you like a glove, we dare say it's one of the best options for a relaxing travelling outfit. And the best part is, when you get to your destination, you'll already look the part!
It adds texture and structure
In summer particularly, loose layers and light fabrics can leave your holiday wardrobe lacking in structure. This is why picking out travelling clothes can be difficult for the modern gentleman who prefers to combine style with substance. 
Bringing tweed into the mix can make all the difference. A well-cut tweed suit adds texture and structure to your look while keeping you comfortable. And wearing tweed away as well as at home also helps you rework your tried and tested looks without straying too far from your everyday style story. 
Find your perfect suit for travelling in tweed
Tweed might not be your first thought when you consider travel clothing. But tweed's unique qualities make it ideal for keeping you looking stylish and feeling comfortable no matter where you're travelling to, what activities you have in mind, or what the weather will be. 
And knowing that you look sharp in your Tweedmaker suit will help make the transition to holiday mode even smoother. 
Ready to find your perfect fit? Contact us to submit your measurements or for more information about our incredible range of tweed suits and more!