Your Guide to Warm Weather Footwear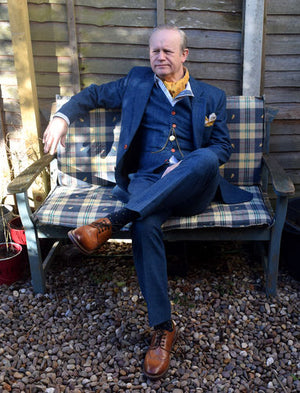 As the weather has been heating up, we've been providing you with a few titbits of summer wardrobe advice: the wonder of linen suits, storing your winterwear, and how to stay cool. But combatting the heat is about more than just picking the right suit — you also need the right pair of shoes. 
When you don your three-piece, the goal isn't just to look good but also to look natural. In the summer, weather-appropriate footwear is essential to lighten up your look and make it clear that you haven't just forced yourself into a sweltering suit at the expense of comfort. 
Here are some ideas for classic but cool suit-shoe combinations that will help you survive the summer in style. 
Loafers
Loafers aren't just for Japanese high school girls — they're great summer shoes that give off cool-and-comfortable vibes, especially when worn sockless. They work seamlessly with linen suits, in particular, matching the casual airy fabric with laid-back style. Full-length trousers can be even rolled up to cheekily expose your ankles to both the public eye and the cool breeze. 
The right pair of loafers can even work with standard suits, the main trick is just to keep the style of both the shoes and the suit in coordination. You can find loafers in anything from shiny black leather to worn brown suede, so there's a lot to choose from.
Slippers
Let's get the mandatory joke out of the way first — no, we're not talking about your granddad's M&S bath slippers here. Although, technically, we are talking about a type of shoe originally intended for relaxed indoor purposes. Think Victorian land-owner sitting in front of the fireplace in his smoking jacket and velvet slippers, pipe in hand. 
Modern slippers can come in a range of styles and fabrics, from classic velvet to suede or leather. Depending on the material and the thickness of the sole, some slippers can look almost identical to loafers, in fact. Typically worn without socks, they provide a casual yet undeniably high-class accent to your ensemble — and they'll keep you nice and cool. 
Suede
Speaking of suede, just about any suit shoe can be made summer-appropriate using this material. Its high breathability makes it perfect for staying cool in the heat and its soft, matte look is the epitome of casualness in comparison to perfectly buffed black leather. 
If you're not ready to go all-in and purchase a pair of suede slippers or loafers to wear with your linen suit, you'll do just as well with a simple pair of suede brogues or dress shoes. This way you can keep things from getting too casual while still benefiting from the flexibility and cool comfort of suede. 
Trainers
Now, this suggestion does come with a few rules and it's definitely possible to botch it, so wearer discretion is advised. Of course, trainers are not for every occasion and the context and frequency of your suit-wearing will play into this. 
If you're a full-time sporter of suits, you're bound to find at least a few appropriate occasions over the course of the summer. On the other hand, if you're just researching how to dress for a one-off summer wedding, trainers won't be the answer you're looking for. 
Trainers shine in that perfectly casual yet fashion-conscious context that gives you full freedom in what you wear. There are no rules or expectations, you're just choosing to look good because that's what you want. 
In this sense, trainers can even help you dress up without looking too dressed up and will definitely help you feel relaxed and cool. No socks can also work here, or if you want the best of both worlds — invisible or "no-show" socks can give you the look while keeping your skin separated from potentially squeaky sneaker fabric. 
Just remember that tattered old shoes never look good! If you're going to wear trainers with your suit, make sure they are clean and well looked after. 
And if your collection is thus far lacking a summery linen set, check out our beautiful range of Tweedmaker Linen Suits here!